Yield: 12 Servings
Skill level: Medium
This delicious Roasted Cherry Bourbon cake is the perfect way to turn fresh cherries into a rich and decadent dessert! The cherries are roasted prior to making the cake in order to enhance sweetness and flavor; creating the perfect addition to the bourbon batter. The cake is baked to perfection and then topped with a white chocolate drizzle. Feel free to add food coloring to the frosting to turn your bourbon cake into the patriotic themed treat you've been searching for!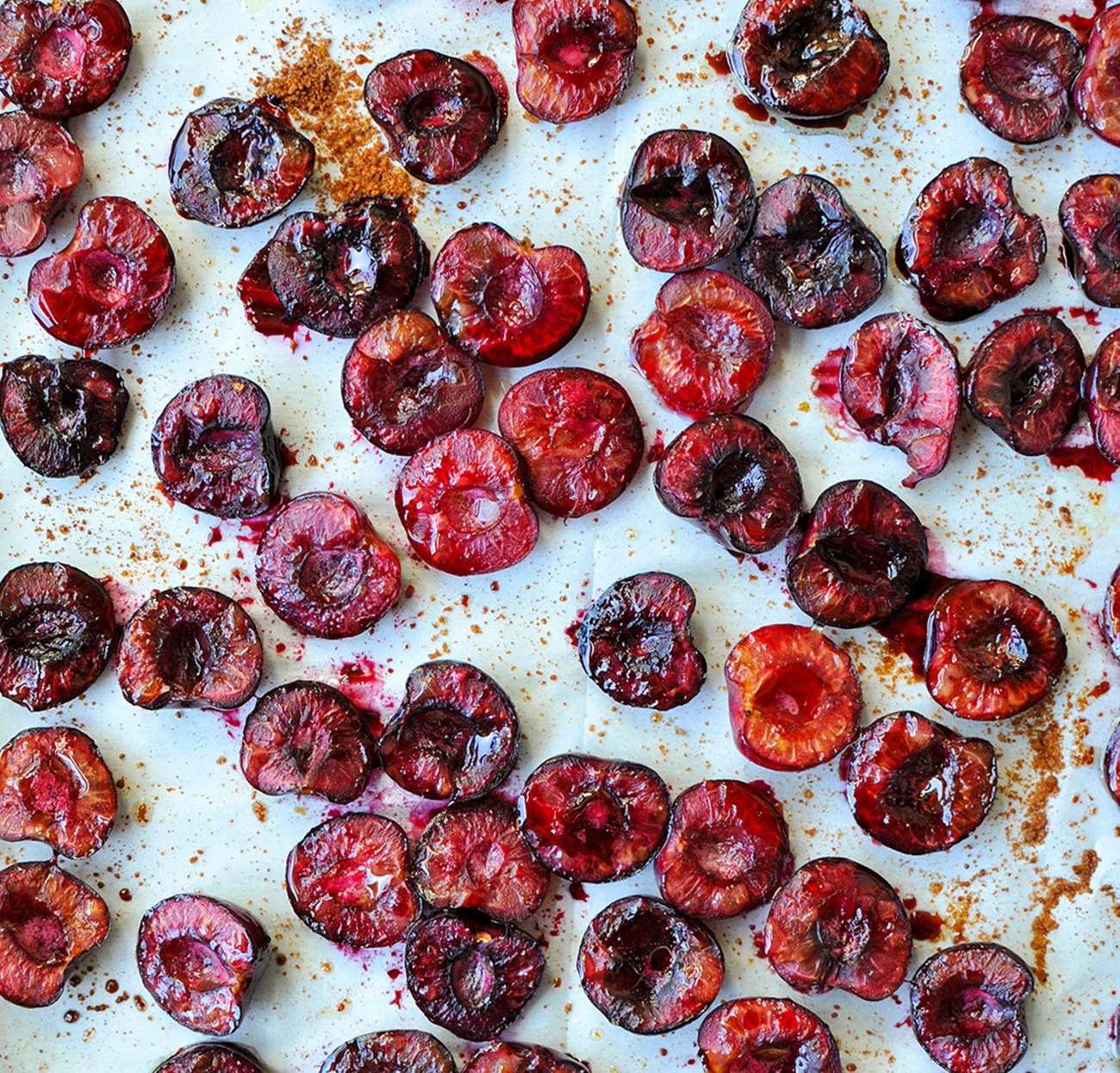 Ingredients:
2 cups cherries, pitted and halved
½ tablespoon olive oil
3 cups all-purpose baking flour
3 tsp baking powder
½ teaspoon sea salt
1 cup olive oil
1 ½ teaspoon vanilla
½ cup unsweetened cashew milk + 2 tablespoons
⅓ cup bourbon + 1 tablespoon, Maker's Mark suggested
5 eggs
¾ cup coconut sugar + ½ tablespoon
¾ cup raw cane sugar
10 oz. white chocolate melting wafers
¼ teaspoon blue dye, optional Color from Nature natural dye suggested
Additional cherries
Directions
Preheat the oven to 400°F.
Lay cherry slices in a single layer on a parchment lined baking sheet (make sure all pits are removed). Brush olive oil on top of the cherries and then sprinkle with the ½ tablespoon of coconut sugar. Roast in oven for 15 minutes, then remove from heat.
Meanwhile, get out 3 mixing bowls. In the largest mixing bowl, combine the dry ingredients: flour, baking powder, and sea salt. Stir and then set aside. In a smaller mixing bowl, combine the olive oil, vanilla, cashew milk, and 1/3 cup bourbon. Stir and set aside.
In a third bowl, combine the eggs and sugars. Using a hand mixer, mix on medium-high for 2-3 minutes. Pour the egg mixture into the olive oil mixture. Stir, and pour the wet mixture into the dry mixture and stir until just combined. Do not over stir. Gently fold in the chopped roasted cherries. Pour the batter into a greased Bundt pan, and bake for 45 minutes. Once the cake is finished, let it cool on the counter for 20 minutes. Flip it over onto a parchment lined cake plate.
In a small saucepan over low heat, start to melt the melting chips. Stir in the additional bourbon and cashew milk. Stir continually until melted. Use a spoon to drizzle it over the cake. Fill the center with fresh cherries.
Recipe created by Nosh and Nourish for Domex Superfresh Growers®