Yield: 9 Brownies
Skill level: Medium
What's better than a delicious treat that doubles as a recovery snack? Cherry and Almond Butter Swirl Black Bean Brownies are the perfect healthy alternative to ordinary brownies! The rich fudgy brownie is paired with chunks of ripe Dark Sweet cherries and topped with swirls of almond butter for a unique, seasonal treat. The black beans and almond butter make these vegan brownies the perfect post-workout, high protein snack while the cherries help replenish the potassium lost in sweat during a workout. Try these brownies to satisfy your sweet tooth without the guilt!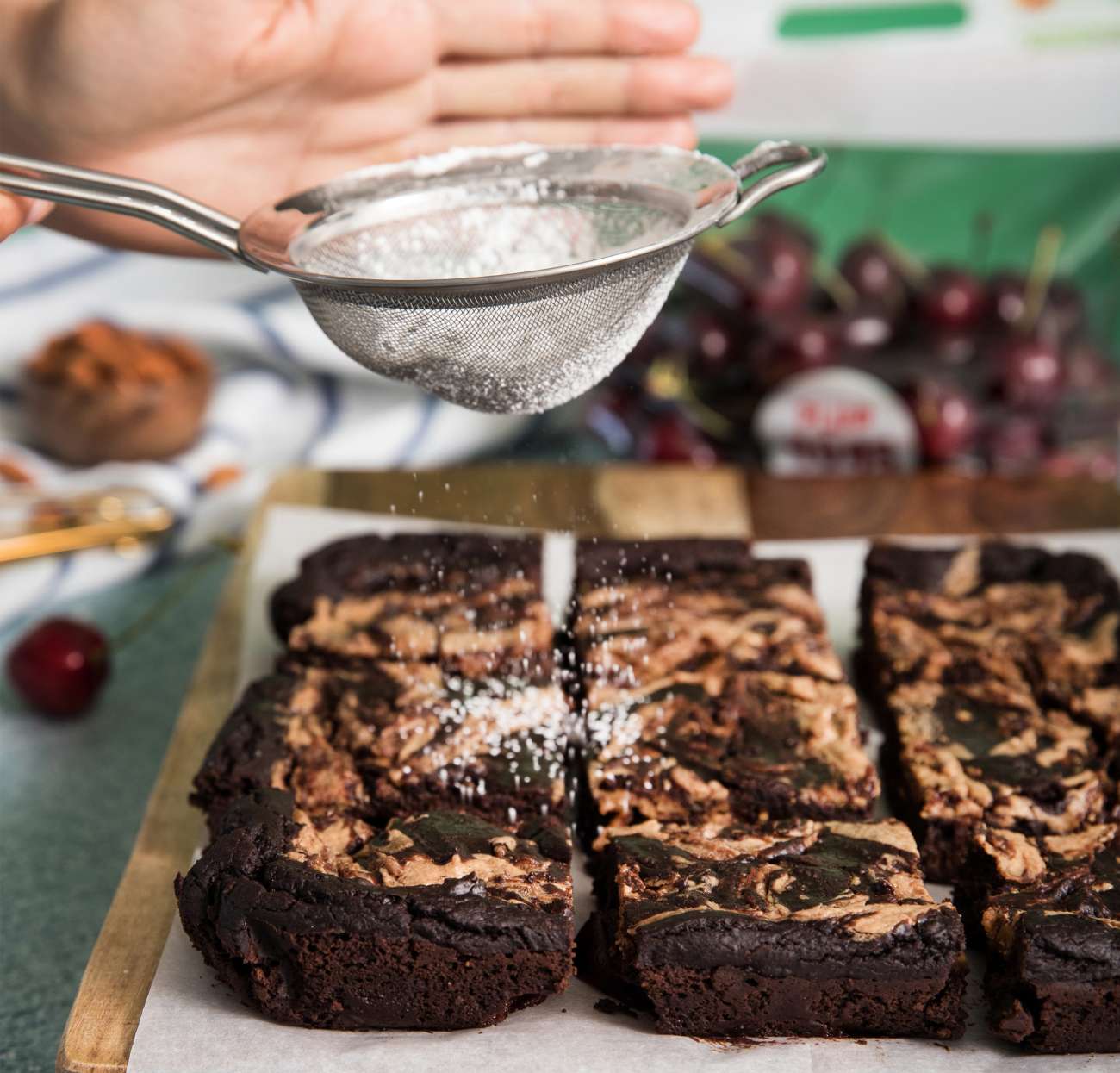 Ingredients
1 (15 oz.) can black beans, drained, rinsed, and patted dry
¼ cup ground flaxseeds
½ cup maple syrup
3 tablespoons preferred vegetable oil
¼ cup powdered sugar, divided
¾ cup cocoa powder
1½ teaspoons baking powder
½ teaspoon fine sea salt
1 cup Superfresh Dark Sweet Cherries, stemmed, pitted, and halved
2 tablespoons cornstarch
½ cup salted unsweetened creamy almond butter
 Directions
Preheat oven to 350°F. Grease an 8" square baking pan and line with parchment paper so parchment comes above the rim of the pan on 2 sides.
In a food processor, process black beans, flaxseed, maple syrup, oil, and 2 tablespoons powdered sugar until very smooth.
In a medium bowl, whisk together cocoa powder, baking powder, and salt. Fold wet ingredients into dry ingredients until smooth.
In a small bowl, toss cherries with cornstarch, then fold cherries into batter and scrape into prepared pan.
In a small bowl, stir together almond butter and remaining 2 tablespoons powdered sugar. Drop spoonfuls of almond butter mixture randomly over batter, and use a butter knife to swirl it into the batter.
Bake until a toothpick inserted into the center of the brownies comes out clean or with crumbs attached, about 30 minutes.
Let brownies cool in the pan at least 20 minutes, then cut into squares and serve.