Yield: Serves 4-6
Skill level: Moderate
An easy weeknight dinner idea that tastes like fall in every bite. Serve with your favorite roasted veggies, a green salad, and crusty bread to round out the meal.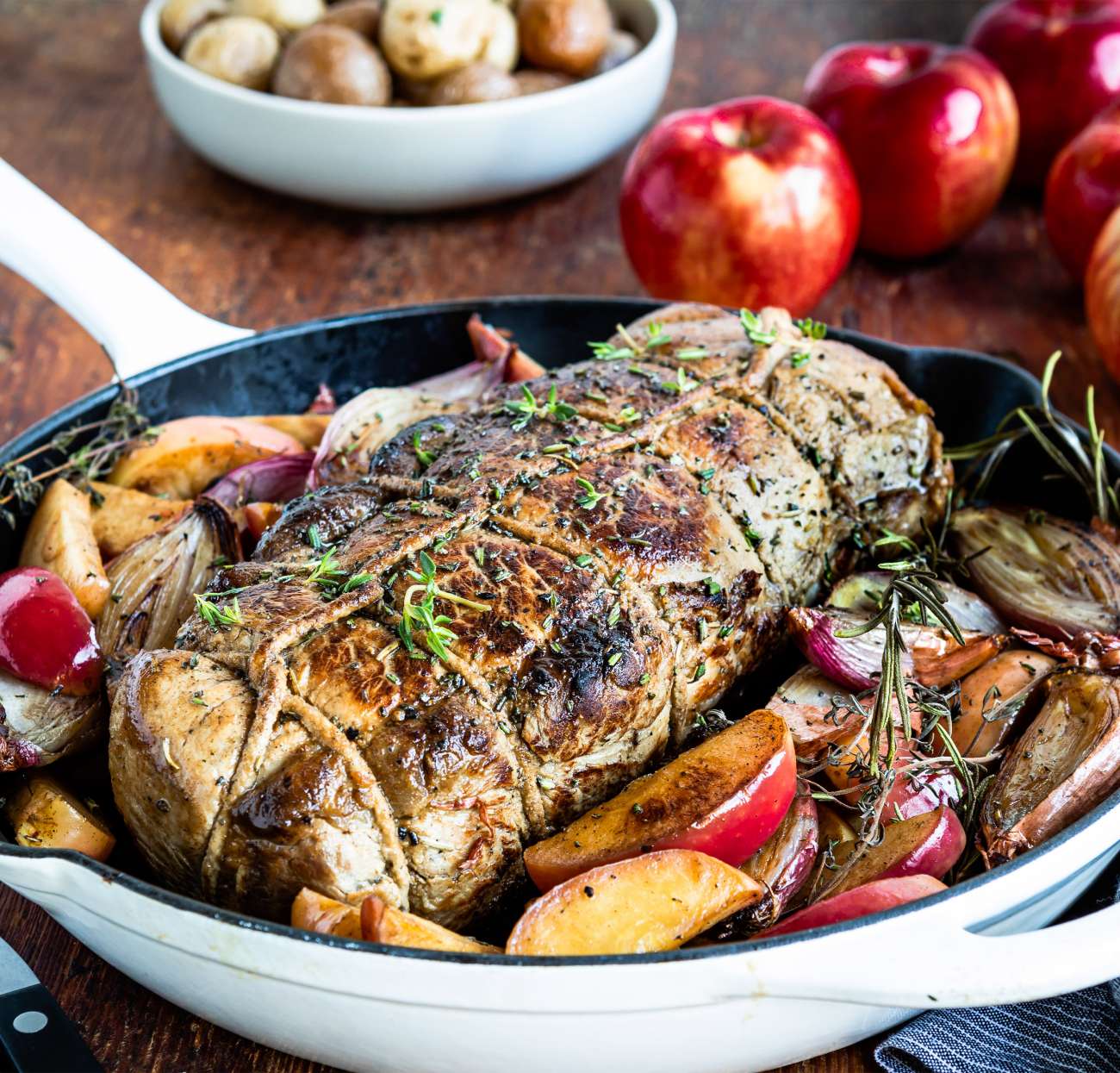 Ingredients
One (4-5 lb.) boneless pork loin
2 tablespoons Dijon mustard
1 tablespoon olive oil
1 tablespoon brown sugar
1 tablespoon apple cider vinegar
1 tablespoon each: fresh thyme and rosemary, finely minced
2 teaspoons sea salt
1 teaspoon freshly ground black pepper
1 teaspoon onion powder
½ teaspoon garlic powder
2 tablespoons cold unsalted butter, divided
1 tablespoon olive oil
1 pound shallots, halved and peeled, leave stem ends intact
3-4 sprigs each: fresh thyme and rosemary, plus more for garnish
2 Honeycrisp apples, cored and cut into wedges
1 cup unfiltered apple juice (for deglazing pan)
Salt and pepper, to taste
Directions
For the pork loin:, use a sharp paring knife to remove any the tough membrane (silver skin) from the meat, then score the fat cap in a cross pattern. Tie with cooking twine, if desired, to hold pork loin together and to keep an even shape while roasting. Set in a shallow baking dish or pan.
Combine mustard, olive oil, brown sugar, apple cider vinegar, minced fresh herbs, salt, pepper, and onion and garlic powders in a small bowl. Pour over the pork and rub all over each side and end, making sure to get some in between the cuts on the fat cap. Cover with plastic wrap and allow to marinate in the fridge for at least 30 minutes, or overnight. Turn pork loin over once or twice while it marinates.
Preheat oven to 400°F.
While the oven is heating, allow pork to sit out to come closer to room temperature.
Heat a large, oven-safe skillet, such as cast iron, on the stove over medium-high heat. Add 1 tablespoon butter and olive oil to the skillet. Once the butter melts and the foaming subsides, sear the pork loin on each side for 5-6 minutes. Lightly sear the ends.
Remove from heat and add the halved shallots and herb sprigs.
Roast for 30 minutes then add the apple wedges and lower oven temp to 350°F. Continue roasting until center of pork loin reaches 145° F on an instant-read thermometer, about 30 minutes.
Remove shallots and apples from the skillet and transfer to a bowl. Cover and keep warm. Transfer pork loin to a plate and cover tightly with foil and allow to stand for 10-15 minutes.
Place the skillet back over medium heat and add the apple juice to the pan.
Use a wooden spoon or spatula to scrape up any browned bits. Bring to a simmer and allow the juices to thicken.
Remove from heat and whisk in the remaining tablespoon cold butter. Season with a little salt and pepper.
To serve, slice pork loin into 1-inch thick slices. Serve with roasted Honeycrisp apples and shallots and a drizzle of sauce. Garnish with fresh herbs.
Side suggestions: mashed or roasted potatoes, carrots, green veggies, and/or salad.