A one-skillet meal that is sweet, savory, and a hit with the whole family! Oh, and did we mention there's bacon? As the creator of this delicious recipe, Rosalynn Daniels believes that Autumn Glory is the ideal apple for this recipe because they have the perfect amount of sweetness without being overbearing, have subtle notes of cinnamon and caramel (which paired so well with the bacon), and are always juicy and crisp!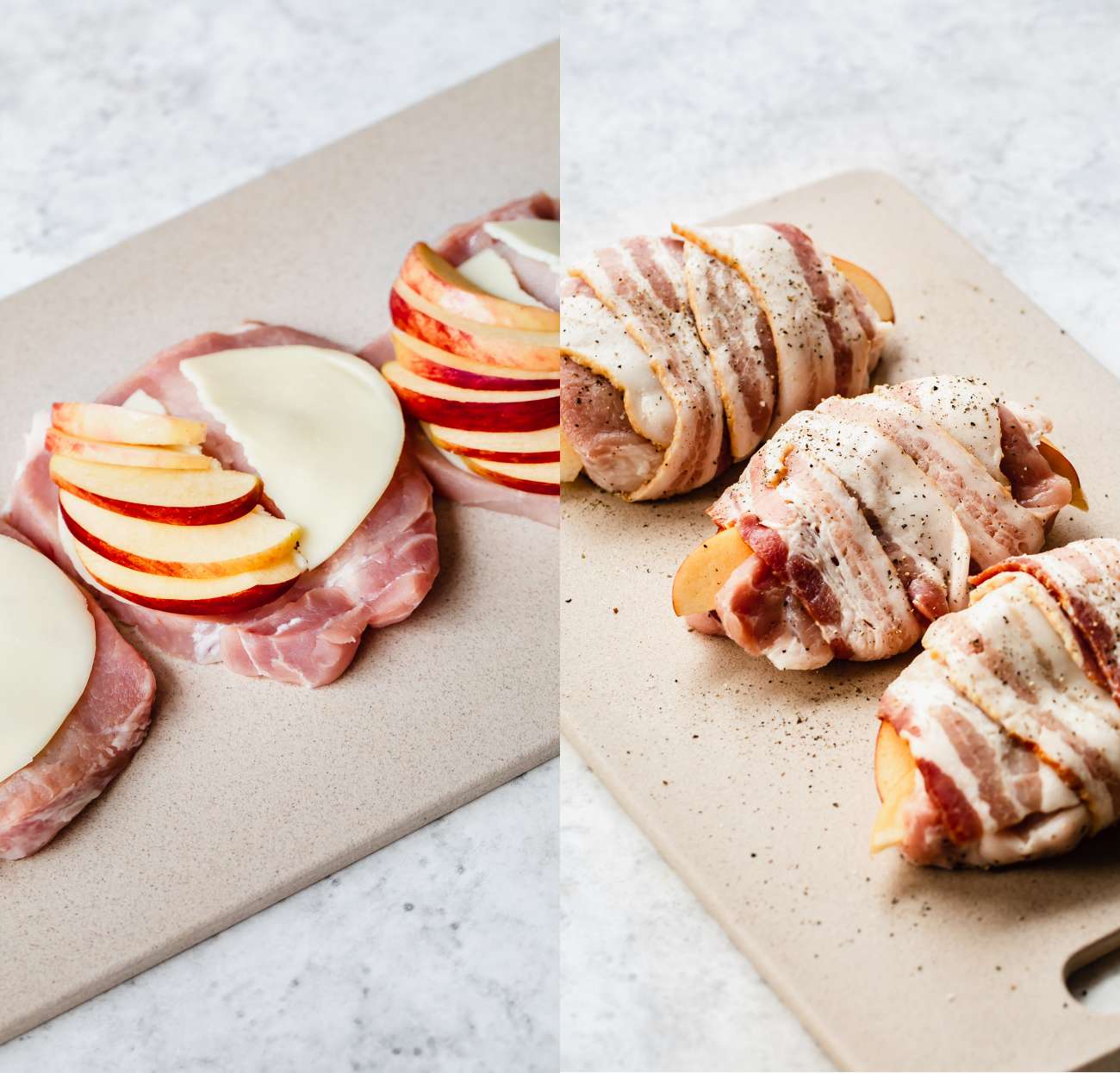 Ingredients
½ tablespoon cooking oil of choice
4–6 large boneless pork chops (try to find 2 in thick cuts)
1–2 Autumn Glory apples, sliced thin
4–6 Slices of provolone cheese
8–12 thick cut bacon slices
1 large yellow onion, diced
4–5 rosemary sprigs
1 tablespoon salt
1 teaspoon pepper
2 cups short grain rice
2 cups vegetable broth
2 cups apple juice
Directions
Slice each pork chop lengthwise, leaving a ½ inch uncut.
Open (butterfly) the pork chop.
Season the inside with salt and pepper.
Cut each slice of cheese in half.
Place each half slice of cheese on each side of the pork chop.
Place sliced apples on one side of the pork chop.
Close each chop, then wrap with 2 slices of bacon.
In a large skillet, over medium heat, begin to sauté your onions and rosemary in oil.
Once your onions become translucent, take them out of the pan and sit to the side.
Place each bacon wrapped pork chop into the hot skillet and cook until bacon is crispy, then flip to cook the other side. Each side may take about 5 minutes to get crispy. Do not over cook because you will be finishing this dish in the oven.
Take pork chops out and sit to the side.
Add onions and rosemary back to the skillet.
Add rice to the skillet and stir for about a minute. You want the rice to take in the flavors of the onion and rosemary.
Stir in apple juice and vegetable broth.
Let rice simmer for 20 minutes.
Add pork chops back to the skillet.
Place skillet in the oven for 15 minutes.
Enjoy while hot.
Recipe created by Rosalynn Daniels for Superfresh Growers.