Classic apple pie is taken to the next level when you use Autumn Glory apples for the filling! Natural hints of cinnamon and subtle notes of caramel bring delicious sweetness that no other apple can. Try this recipe or experiment using Autumn Glory in your favorite apple pie recipe for the holidays.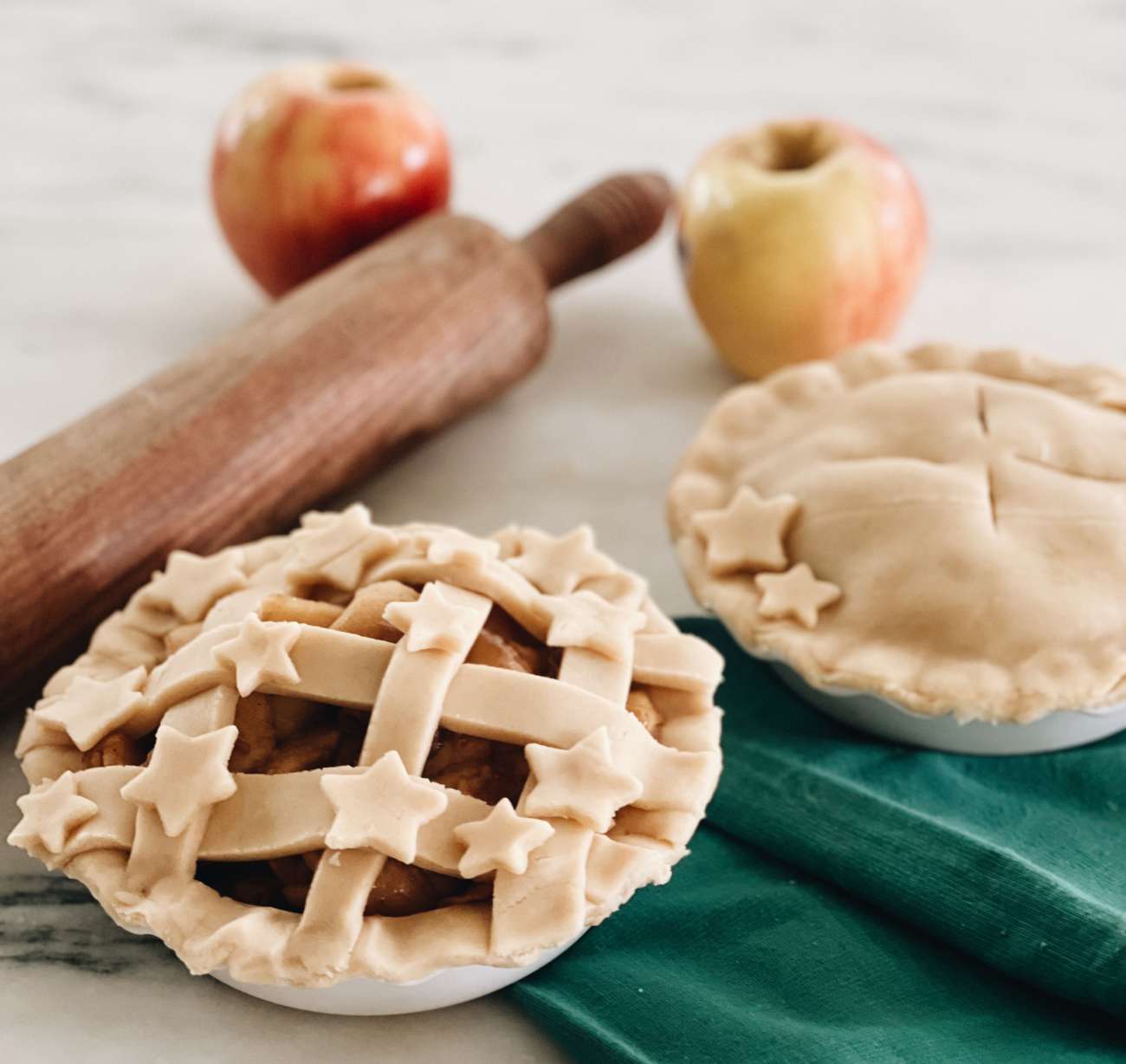 Ingredients
Crust
2 ¼ cups Unbleached All-Purpose Flour (or Pastry Flour Blend)
¼ teaspoon salt (omit if using salted butter)
¼ teaspoon baking powder
¾ + 1 tablespoon cold plant-based butter
1 ½ tablespoons plant based buttermilk (1 tablespoon almond milk plus 1 teaspoon apple cider vinegar, mix well and let curdle for 10 min)
4+ tablespoons cold water
Filling
8 Autumn Glory Apples, peeled, cored, and sliced very thin
Juice and zest of 1 medium to small lemon
½ cup granulated sugar
½ cup coconut sugar
5 tablespoons all-purpose flour
⅛ teaspoon salt
1 ½ teaspoons cinnamon
¾ teaspoon nutmeg
½ teaspoon cardamom
½ teaspoon ginger
1 teaspoon vanilla
1 tablespoon milk to brush crust before baking
Directions
Crust
Make the crust first as it will need to chill before being rolled out.
In a food processor (you may also use a pastry blender it will just take longer) Pulse the flour, salt, and baking powder until combined
Add cold butter cubes and pulse until mixture starts to form big crumbles.
Add 4 Tbs of water and mix until it makes a ball like consistency. Add a bit more water (up to 2 tbs) if needed.
Remove from food processor and roll into a ball. Cover with cling wrap and place in refridgerator for about 30 min.
Filling
While crust is cooling make filling.
Place sliced apples onto a 12 inch skillet.
Add lemon zest and lemon juice. Mix well
Turn on medium heat
Add the sugar, vanilla, and spices. Stir gently without breaking the apples
Add the flour and mix well
Cook over medium heat for about 20 minutes. Apples should be tender but still hold their shape
Let cool completely (you can transfer to a parchment paper lined sheet pan and place in freezer if needed)
Once filling is cooled and dough has chilled you are ready to assemble
Assembly
Roll out the dough and place on a 9" pie dish. Let it hang over the edges.
Trim away excess.
Poke holes onto the bottom of the pie
Add the filling
Use excess dough to make lattice top or cover the top and cut slits.
If you have time place pie in fridge for 20-30 minutes again before baking. This will ensure you have a really flaky crust!
Brush pie with a little almond milk before placing in oven.
Bake at 350 for 30 minutes. Make sure pie is covered with foil so the curst does not burn!
Let cool completely before serving. This allows the juices to dry and the pie will not be soggy at all.
Recipe created by Azure Farm for Superfresh Growers.