Skill level: Moderate
This recipe is a leafy salad with toppings derived from a traditional Greek salad (with a twist of course). By adding Kalamata olives, tomato, cucumber, red onion, feta, and of course that yummy Greek seasoning on the chicken, you get everything you love about Greek salad. The thing that makes this recipe so special is the addition of Superfresh blueberries AND a homemade blueberry vinaigrette. This salad is the perfect summer recipe! You can also try topping your Greek seasoned grilled chicken with the blueberry dressing for a summery main course!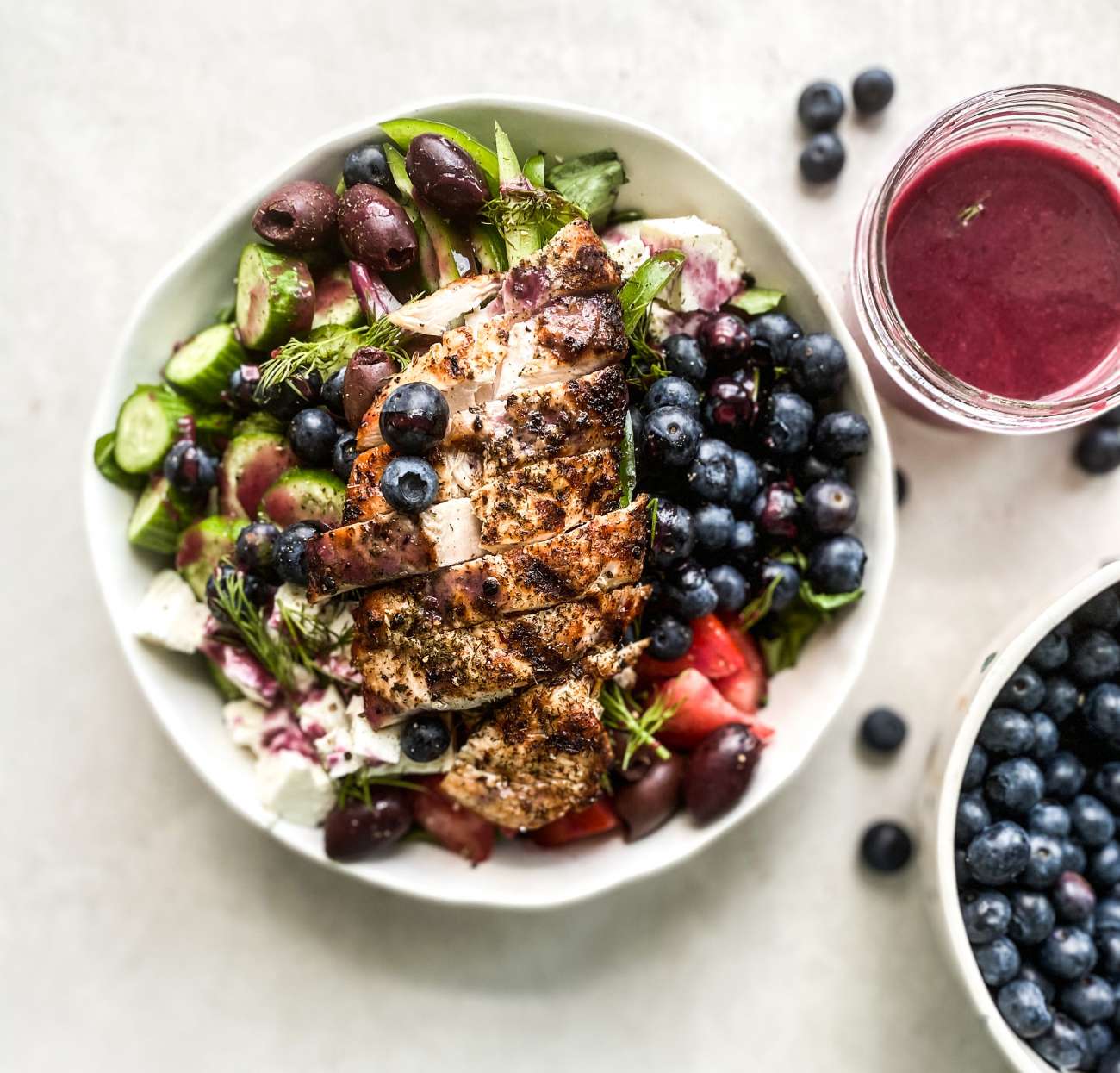 Ingredients
1 cup blueberries
4 chicken cutlets
2 tablespoons Greek seasoning
½ cup feta, diced
1 tomato, diced
1 cup cucumber, diced
¼ cup Kalamata olives
¼ cup bell pepper, sliced
2 cups romaine lettuce, diced
fresh dill
salt & pepper
For blueberry vinaigrette
1 cup blueberries
¼ cup red wine vinegar
1 tablespoon lemon juice
2 tablespoon extra virgin olive oil
salt & pepper
1 teaspoon honey
Directions
Begin by heating up your grill.
While grill is heating, liberally season chicken with Greek seasoning on both sides. Place on grill when it is fully heated. For more grilling tips, check out the recipe video here.
While chicken is cooking, place lettuce, tomato, cucumber, olives, bell pepper, feta, and blueberries, and fresh dill into a salad bowl. Make sure you are keeping an eye on the chicken during this time and turning when the time comes.
To make vinaigrette, use a blender, immersion blender, or food processor to blend together blueberries, red wine vinegar, lemon juice, olive oil, salt and pepper, and honey. Once blended, strain in order to get out any remaining chunks.
Once chicken is finished cooking, slice and place on top of salad. Top with salt and pepper and the blueberry vinaigrette. Enjoy!
Recipe created by My Diary of Us for Superfresh Growers.