Autumn Glory apples bring the perfect hint of sweetness and crunch to this Thanksgiving stuffing recipe! The texture and juiciness elevate the recipe to be a real showstopper this holiday.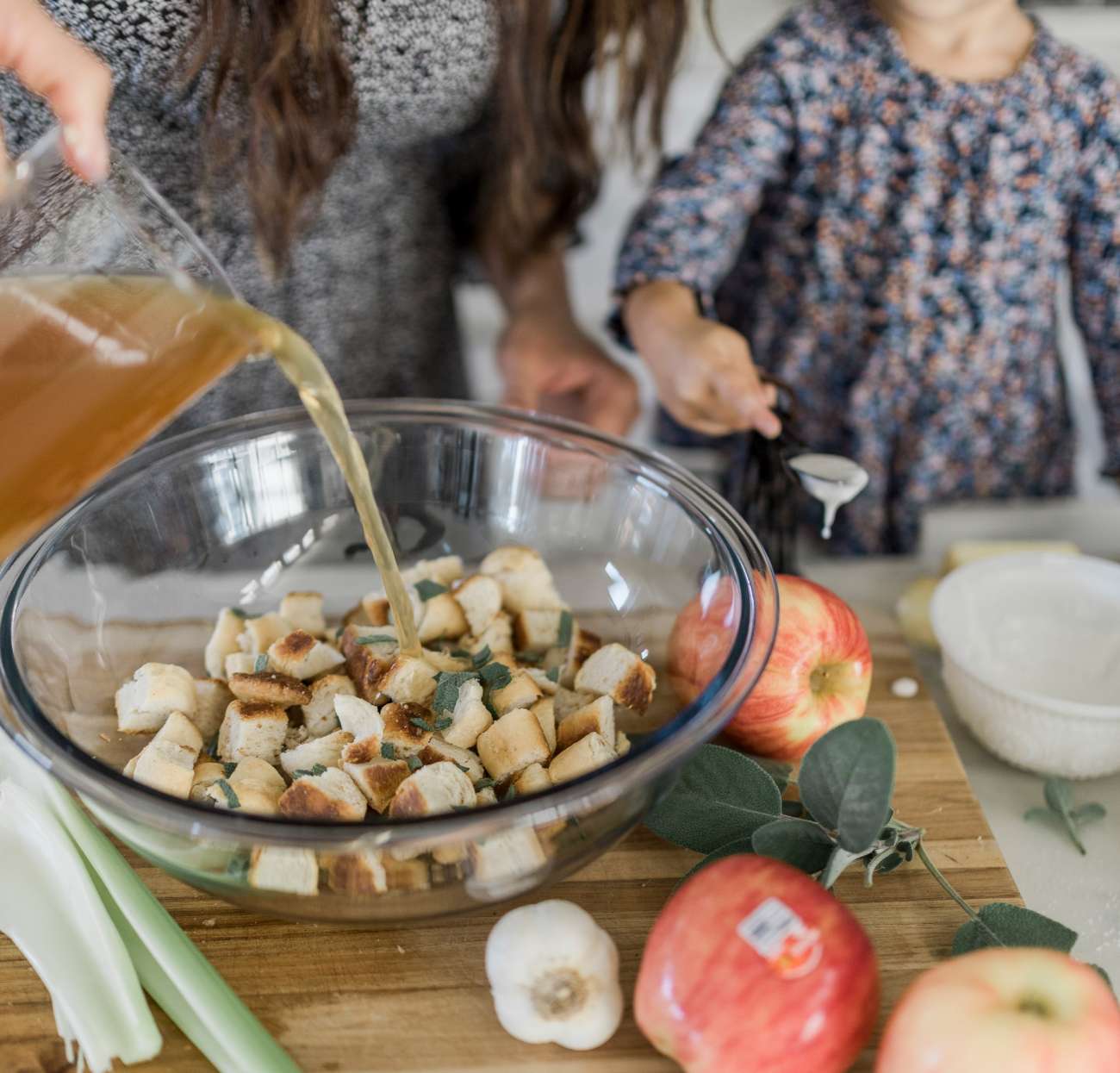 Ingredients
2 packages of crescent rolls (about 6 cups)
1 cup of celery (about 4 stalks), chopped
1 large yellow onion, chopped
3 cloves of garlic (minced)
2 Autumn Glory apples (cored and chopped)
2 cups vegetable broth
½ stick of butter or plant-based butter
2 eggs (or the equivalent of)
2 teaspoons chicken-style seasoning
1 teaspoon sugar
1 teaspoon salt
Fresh sage, rosemary, thyme, (about 3 sprigs of thyme and rosemary and 3-4 sage leaves) Add more if desired.
Directions
Pre-heat oven to 350°F
A day or two prior to making the recipe, cook croissants as indicated on packaging. Once cooked, let sit out for a day or two so the bread dries out.
In a saucepan, melt butter. Then add chopped onion and sauté for 3 minutes. Add garlic, celery, and apple. Sprinkle it with a teaspoon of salt. Cook for another 2-3 minutes. Do not overcook.
In a separate dish mix 2 cups of vegetable broth with eggs. Pour into the saucepan with celery, onion, etc. Mix well.
While things are on the stovetop cooking take previously cooked croissants and roughly chop. Place in a large mixing bowl and add fresh sage, thyme, and rosemary. You can decide how much of the fresh herbs you'd like. For a stronger flavor add more, for more subtle add less.
Take stovetop mixture and pour over croissants. Gently fold together. Do not crush bread. You just want to moisten it with the mixture but not get it too soggy.
Pour into a baking dish. Sprinkle it with brown sugar and salt one more time. Add a dash of crushed pepper if desired. Bake for 35-40 minutes or until bread is golden and toasted.
Recipe created by Azure Farm for Superfresh Growers.