Skill level: Easy
As our featured 2023 National Nutrition Month recipe, Registered Dietician, Luisa Hammett packs all the yummy nutrition into this baked cinnamon apple bread! Using sweet, cinnamon caramel Autumn Glory apples means less added sugar and all the health benefits found in your favorite fruit. This recipe is perfect for a filling breakfast, a healthy snack, or a light dessert!
Click here for printable recipe!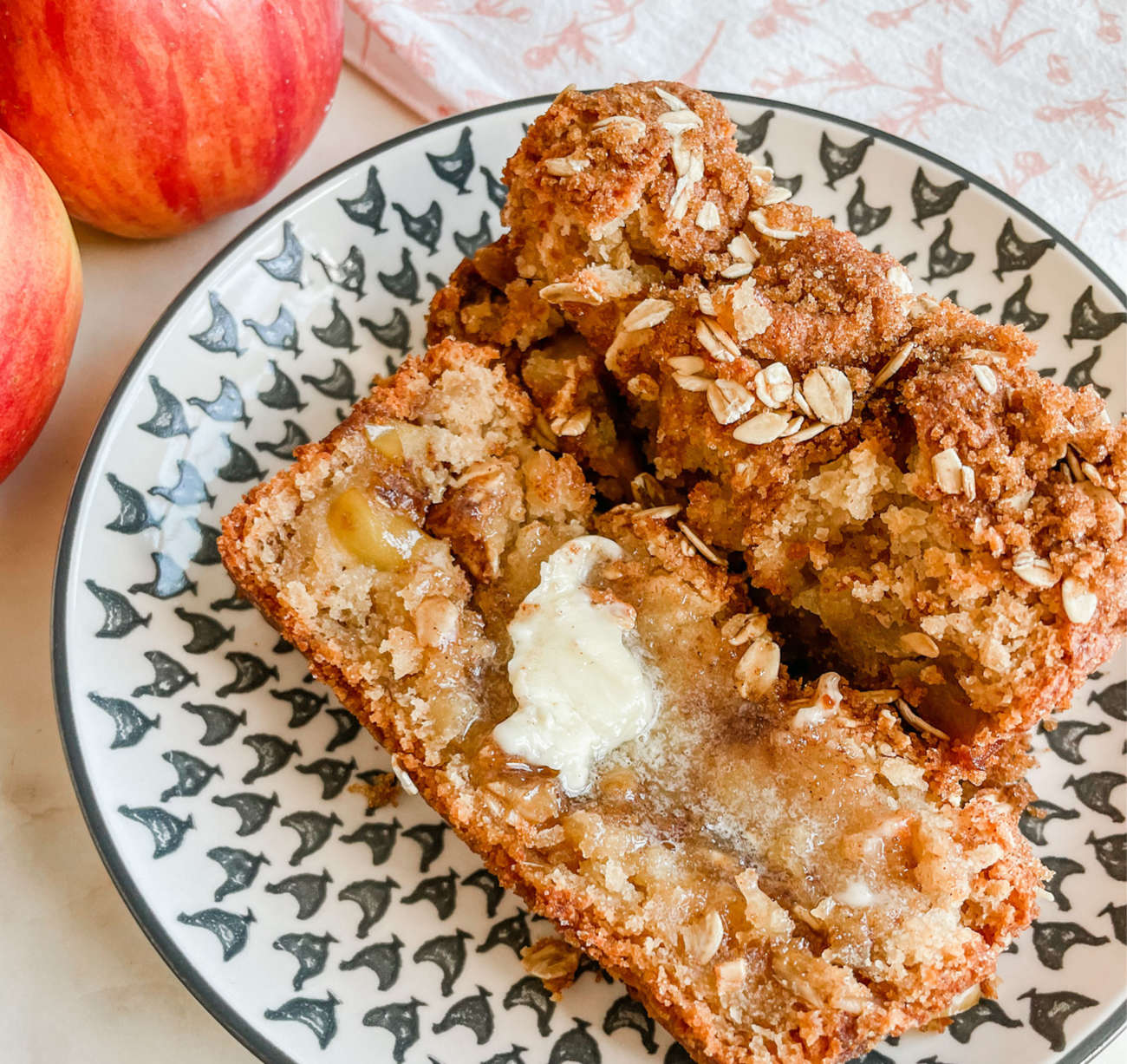 Ingredients
For Bread Mixture
2 cups diced Autumn Glory® apples, keep skin on for extra fiber
2 cups flour of choice
2 teaspoons baking powder
½ teaspoon salt
½ teaspoon baking soda
⅓ cup sugar
1 cup milk of choice
3 tablespoons oil of choice
For Apple Topping
¼ cup brown sugar
¼ cup rolled oats
1 teaspoon cinnamon
Directions
Preheat oven to 350°F.
Mix brown sugar, oats, and cinnamon together in a bowl and set aside.
Wash and dice apples with skin on. Place 1 cup of apples in a bowl. Set the other cup of apples aside.
Add all dry ingredients over apples and stir well.
Mix wet ingredients into a separate bowl. Slowly add in the apple mixture and gently mix well.
Pour half the apple batter into the greased loaf pan.
Cover with ½ cup diced apples.
Sprinkle half of the sugar, oat, and cinnamon mixture.
Pour the remaining batter.
Top with remaining (½ cup) diced apples and remaining brown sugar mixture.
Bake for 45 minutes or until fully baked (you can check with a toothpick or knife).