Yield: 2 Servings
Skill level: Easy
Indulge in the decadence of juicy cherries topped with vanilla and citrus scented fresh cream. You will feel like royalty as you scoop this breakfast treat onto your favorite breakfast of choice. This recipe is all about the roasted cherries and cream, so use it to top your waffles, pancakes, or just eat it out of the bowl!
Ingredients for Cherries:
2 cups pitted sweet red cherries, measured after pitting
1 tablespoon olive oil  
Sprinkle of flakey sea salt
1 bar dark chocolate, for shaving
Ingredients for Cream:
4 ounces chilled mascarpone cheese
4 ounces chilled whole milk ricotta cheese
½ cup + 3 tablespoons chilled heavy whipping cream
1 tablespoon powdered sugar
½ teaspoon pure vanilla extract
⅛ teaspoon ground cinnamon
¼ teaspoon fresh orange zest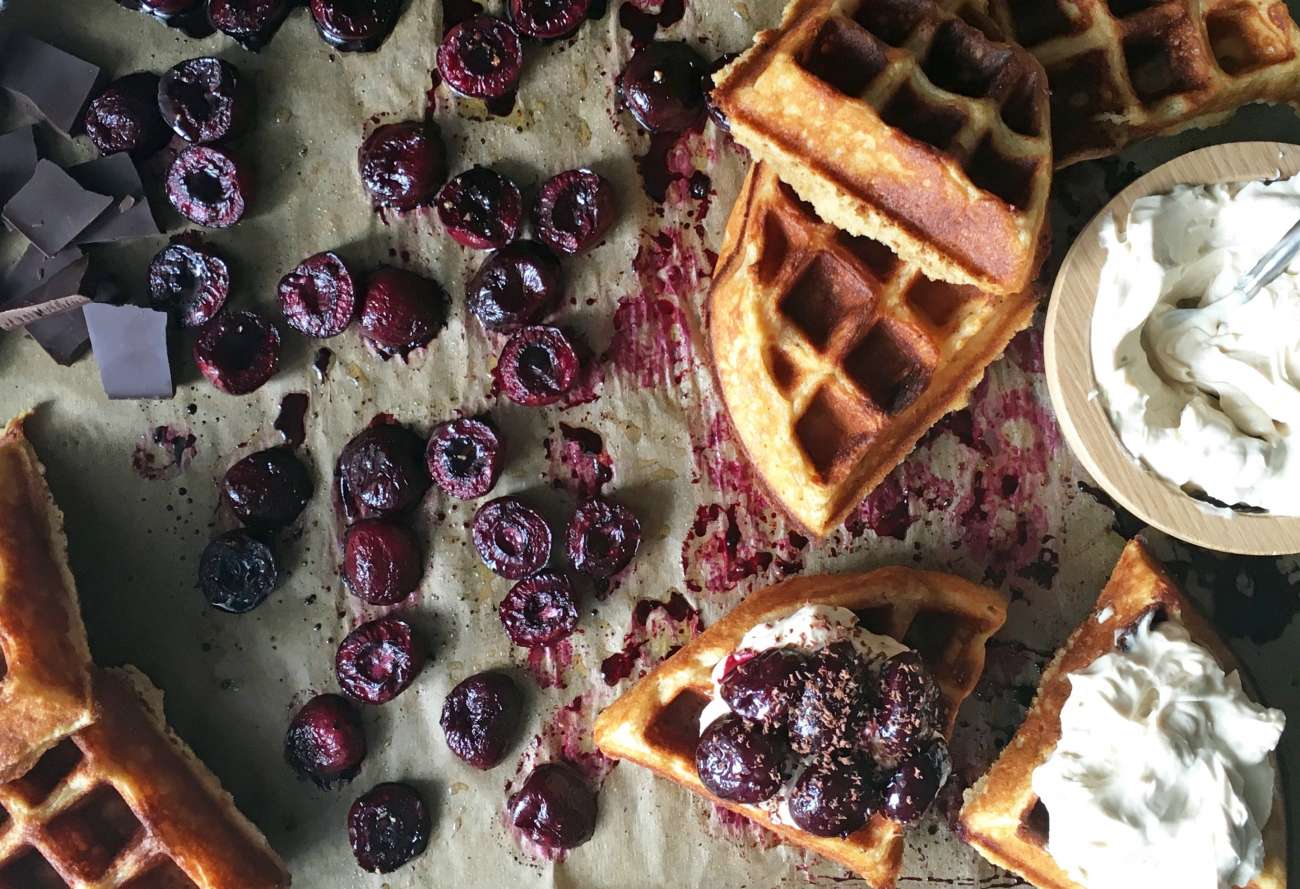 Directions:
Make your waffles and/or pancakes according to package instructions.
Preheat oven to 400°. Line a baking sheet with parchment paper. Toss halved, pitted cherries in olive oil and spread as a single layer on baking sheet. Sprinkle lightly with flakey sea salt and bake for 10 minutes.
While cherries are roasting, combine the ingredients for the cream in a medium bowl. Whip with an electric hand mixer until soft peaks form and all ingredients firm up a bit.
Top waffles/pancakes with mascarpone ricotta whipped cream, roasted cherries and shaved dark chocolate!
Recipe created by Christi Lazar of BazaarLazarr for Domex Superfresh Growers®.