Yield: Serves as an appetizer for 4 or a side for 2 people
Bake a fancy snack or a tasty appetizer that features the crisp sweetness from our Autumn Glory® apples. The Brie cheese and caramelized onions bring a delicate combination of fruity, mellow and nutty flavors that will hug your taste buds with a cozy blanket of fall spices with this delicious recipe.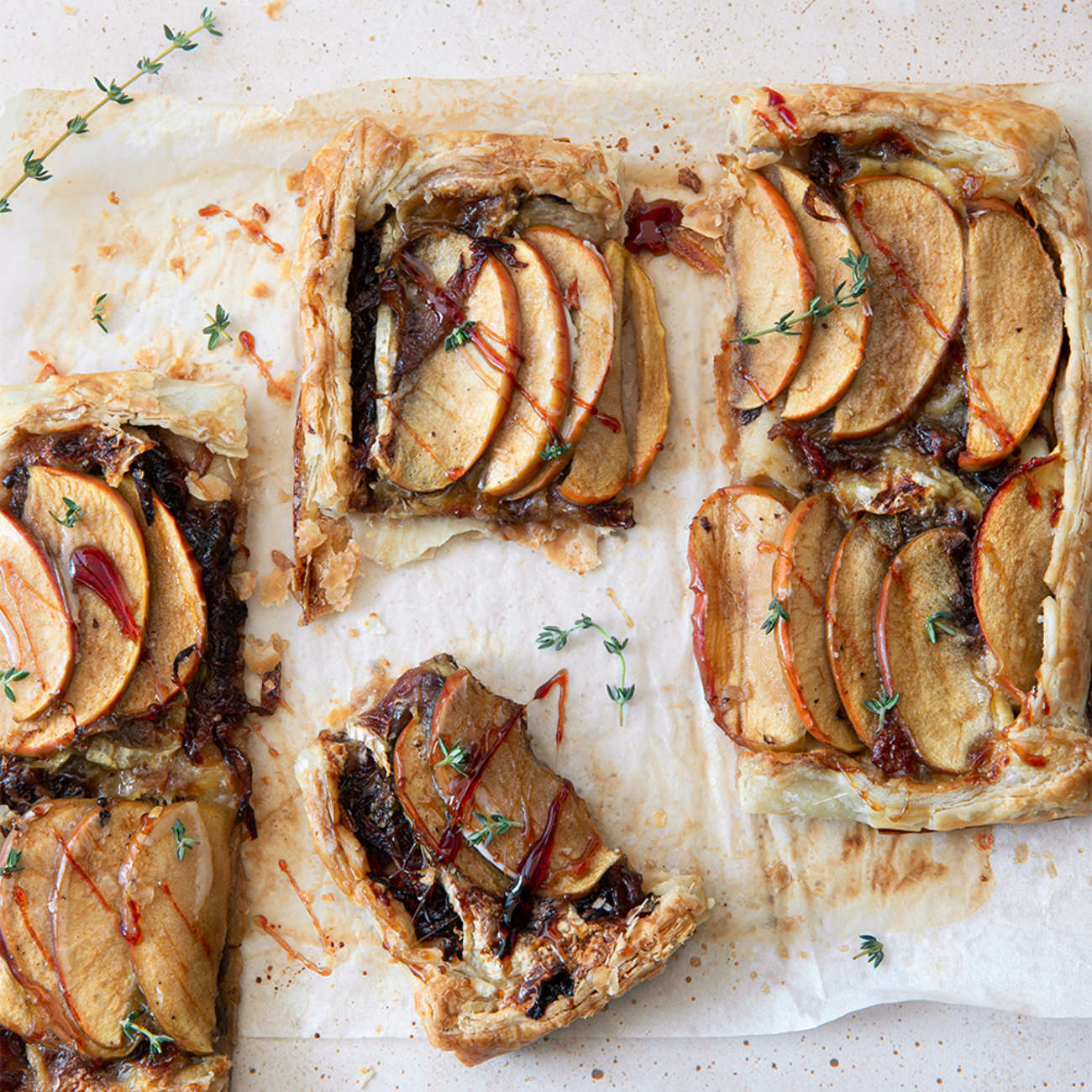 Ingredients
1 ½ sweet onions, thinly sliced

2 tablespoons of butter

Pinch of sea salt
1 sheet puff pastry, thawed if frozen

½ - 1 apple, thinly sliced

1 small pack brie cheese, thinly sliced

1 egg + 1 tablespoon water, beaten together for egg wash

Thyme, optional

Pomegranate reduction/molasses for drizzling
Instructions:
Heat butter or oil in a pan and throw in sliced onions to caramelize.
Add a pinch of salt and stir often until it starts to cook.
Turn heat to low and occasionally stir. Let onions brown and caramelize, about 25 - 40 mins. Let them cool.
Preheat the oven to 410°F .
On a baking tray with parchment paper, add the puff pastry sheet, place the caramelized onions on it, leaving some room at the borders to fold.
Add the Brie slices on the onions. Then place the apple slices on top.
Sprinkle some salt and pepper (a hint of it).
Fold the edges and then brush them with the egg wash.
Bake for 20 - 30 minutes, or until the pastry is golden and puffy.
Remove and drizzle with pomegranate reduction and add thyme.
Slice and serve warm or cool.
Enjoy!
Recipe created by @Thewritereats for Superfresh Growers.