Yield: 4 sandwiches
Skill level: Easy
 Autumn Glory® apples find their savory place in this vegan twist on the Reuben sandwich. Since Autumn Glory apples retain their crispness during cooking, they add a nice crunch in this sandwich. Enjoy this super easy and delicious twist on the classic version.
INGREDIENTS
1 tablespoon olive oil or other neutral tasting oil
2 cups shredded green cabbage
1 cup julienned Autumn Glory apples 
2 teaspoons apple cider vinegar
1 teaspoon sea salt
Freshly ground black pepper to taste
8 slices rye bread or rustic bread
Dijon mustard
Russian dressing or Thousand Island dressing* see notes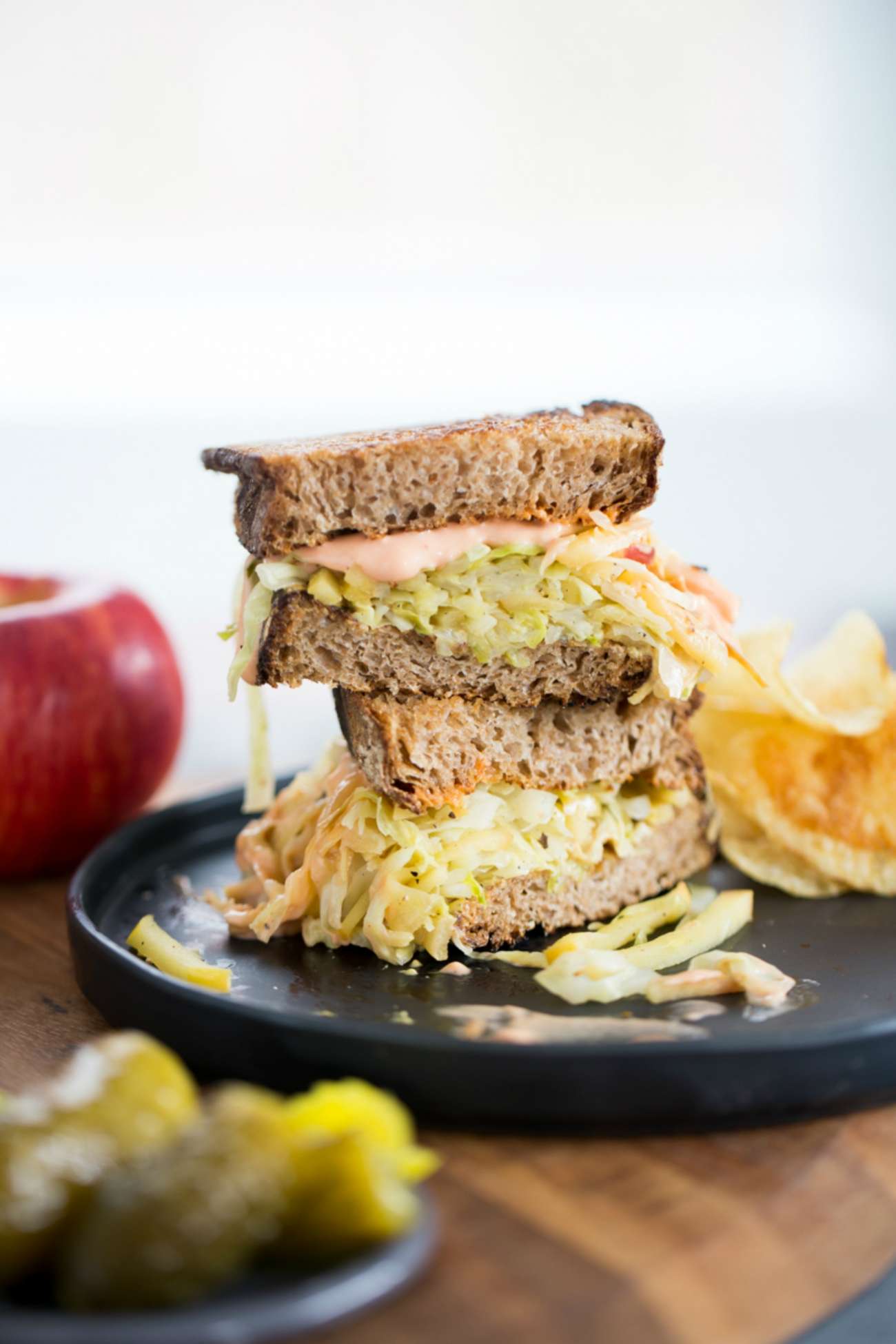 Directions
Toast the bread slices and set aside.
In a medium skillet add the tablespoon oil and shredded cabbage for about 3-5 minutes, until it softens. Add the apples and leave for three more minutes or until the apples begin to soften.
Add the tablespoon of apple cider vinegar, mix well, add salt and pepper. Taste for seasoning and adjust if necessary.
Leave 2 minutes or until the vinegar evaporates.
To assemble the sandwiches, spread Dijon mustard all the way to the edges of a slice of bread, serve the with apple-cabbage on top, drizzle some Russian dressing or Thousand Island dressing and top with the other slice of bread.
Serve immediately.
NOTES
The "Thousand Island dressing" or Russian dressing can be made with two tablespoons of mayonnaise and two teaspoons of ketchup. Mix well and adjust seasoning.
Recipe created for Superfresh Growers in partnership with Piloncillo y Vainilla.