Skill level: Moderate
Turn the greasy pizza you love into a lighter, healthier, and more colorful meal by giving this apple, beet, and caramelized onion pizza a try! Garlic beet sauce, cheddar cheese, caramelized onions, and our Autumn Glory apples create a flavor packed pizza that will make this recipe your new favorite!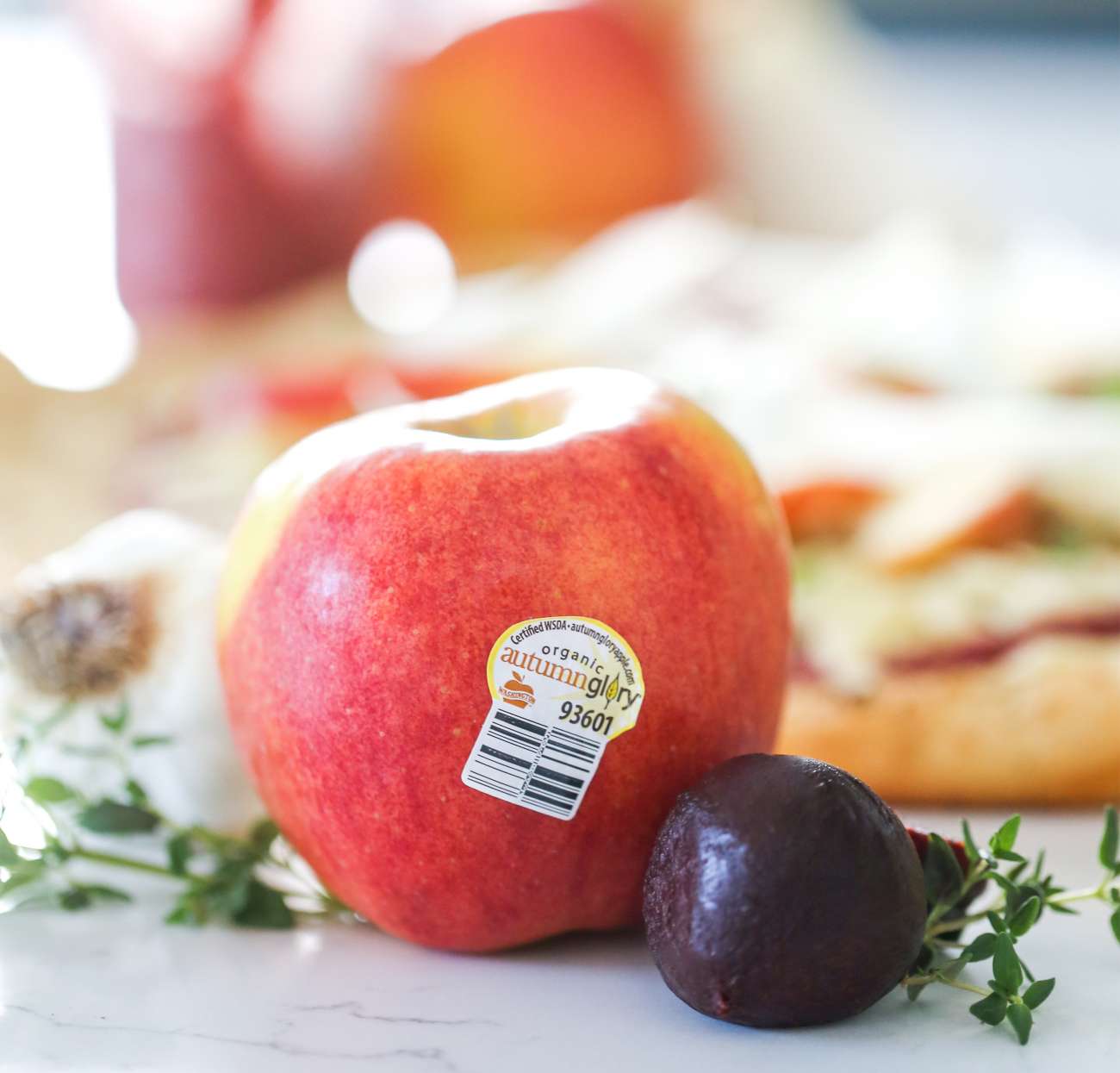 Ingredients
Beet pesto sauce
2 cups roasted or steamed beets
1 cup pumpkin seeds
3 cloves garlic
3 tablespoons olive oil
1 tablespoon white balsamic vinaigrette
¼ cup parmesan cheese, grated
1 lemon, divided
½ teaspoon salt
¼ teaspoon freshly ground pepper
3 tablespoons olive oil, divided
½ teaspoon Italian or blended seasonings
1½ - 2 cups white cheddar cheese, grated
2 Autumn Glory® apples, thinly sliced
1 onion, diced
¼ teaspoon baking powder
⅛ cup fresh thyme
optional: crispy bacon
Directions
Preheat your oven to the pizza dough manufacturer's instructions.
Prep your beet pesto sauce. Combine roasted or steamed beets, pumpkin seeds, garlic cloves, olive oil, white balsamic vinaigrette, grated parmesan cheese, juice from half a lemon, salt and pepper in a blender and mix until combined.
If you are using store-bought dough, roll out your dough onto a greased pan and pre-bake your dough according to the instructions to avoid a soggy crust. Optional: add 2 tablespoons of olive oil and a sprinkle of seasoning to the crust for this initial bake.
While the dough is baking, caramelize your onions with 1 tablespoon of olive oil and baking powder to speed up the caramelization process.
Spread the beet pesto sauce in the middle of the pizza, top with grated white cheddar cheese, and add the caramelized onions.
Thinly slice your apples and top with a little bit of lemon juice as you go to keep the apples from oxidizing.
Finally, lay out your apple slices in a fan shape on top of your pizza, then top with extra caramelized onions and fresh thyme leaves. Optional: finish with a sprinkle of crispy bacon
Bake for another 6-8 minutes per your pizza dough's instructions.
Once browned to your liking, remove from the oven, slice and enjoy!
Recipe created by Salty Canary for Domex Superfresh Growers®.