Yield: 8-12 Slices
Skill level: Easy
Looking for an easy recipe to impress your holiday guests? Lindsey Johnson of Café Johnsonia crafted this recipe for bakers of all ages and levels. The term galette refers to a free-form tart that is made with a single-layer of pastry or bread dough. The edges can be easily folded over to keep the filling moist and to contain the natural juices. This Rustic Autumn Glory® Apple Galette has been crafted with minimal ingredients to truly let the apples shine on their own. Only a touch of brown sugar and chai spice accent the natural caramel and cinnamon notes of Autumn Glory. This recipe is made with gluten-free and vegan ingredients, but you can substitute with flour or butter, if desired.

Ingredients:
 Crust Ingredients: One (16-ounce) package Pamela's Gluten-Free Bread Mix (or can substitute with prepared pie dough) 1/2 cup vegetable shortening, chilled 1/2 cup vegan butter, chilled, cut into small cubes 1/2 cup ice cold water, plus more if needed
 Filling Ingredients: 4 Autumn Glory apples 4 tablespoons almond flour or meal, divided 2 tablespoons dark brown sugar, divided 1/2 teaspoon chai spice blend (see note) or ground cinnamon, divided
 Chai Spice Ingredients:
1 tablespoon ground cinnamon
1 tablespoon ground cardamom
1 ½ teaspoons ground ginger
½ teaspoon ground nutmeg
½ teaspoon cloves
½ teaspoon allspice
½ teaspoon black pepper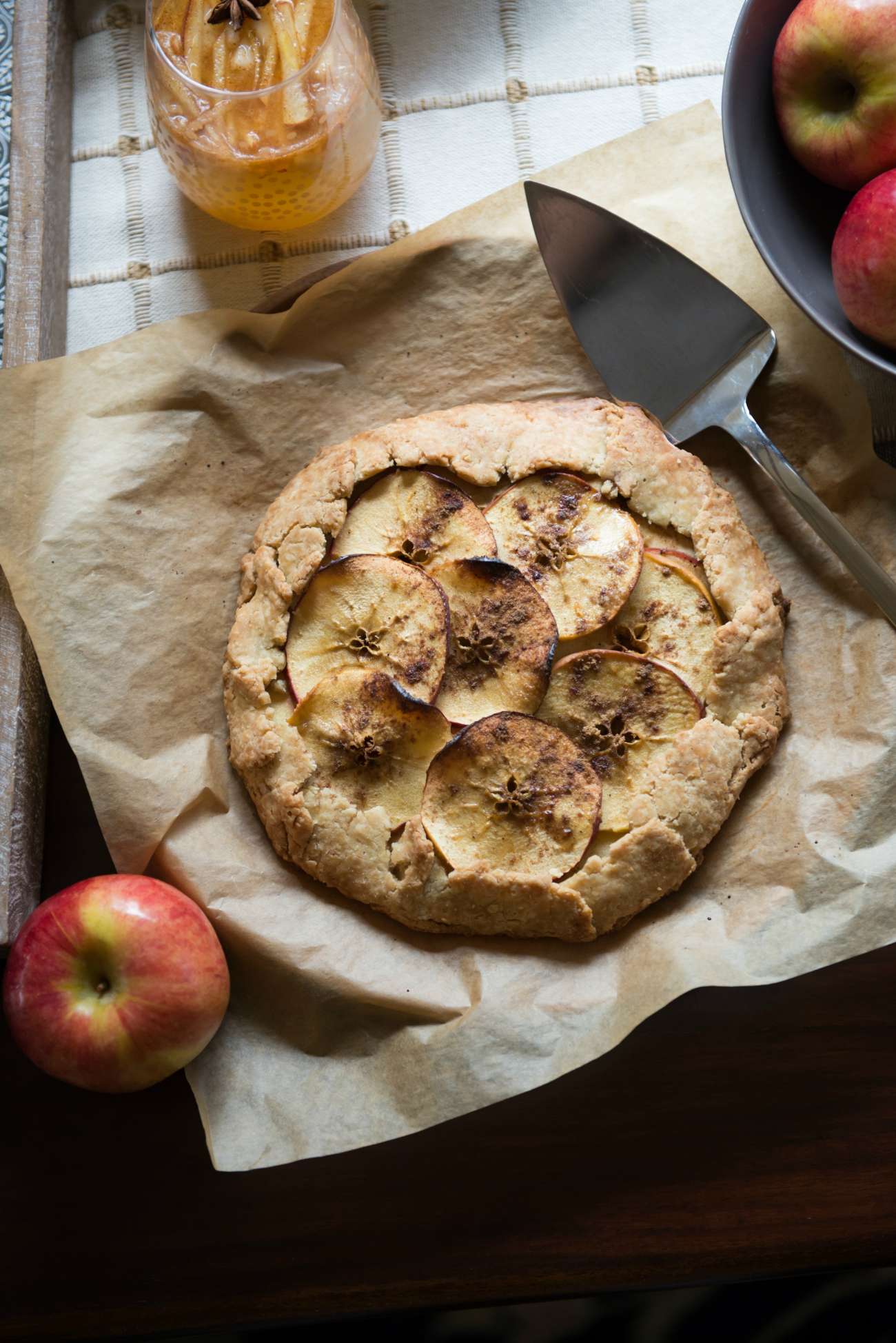 Directions: 
Preheat oven to 400° F. Prepare two half sheet, rimmed baking pans. Cut two rectangles of parchment (baking) paper to fit the pans.
 Place dry bread mix into a large mixing bowl. Add the cold shortening and vegan butter. Using a pastry blender or your hands, work the shortening and vegan butter into the flour until texture is crumbly and has some larger, pea-sized pieces of shortening and vegan butter. Make a well in the center and add a half-cup of ice cold water. Quickly stir using a fork to bring everything together into a ball in the center of the bowl. If the mixture is still dry, crumbly and not holding together, add a little more ice water. Add one to two teaspoons at a time until dough comes together. It should not be sticky. Transfer the dough to a piece of parchment paper. Divide the dough in half to create two disks, and wrap each with plastic wrap. Each ball will create one galette. Place in refrigerator for 30 minutes.
Meanwhile, thinly slice the whole, unpeeled Autumn Glory apples into rounds. Use the tip of a paring knife to remove any bits of apple seeds from the center of the rounds. Set aside while rolling out pie dough.
To roll out pie dough, place one of the parchment rectangles on a clean, dry surface. Place one disk of the dough in the center. Roll the dough into a circle about 10-inches in diameter. Sprinkle two tablespoons of almond meal or flour in the center of the disk, leaving about a two-inch border all the way around. Carefully pick up the parchment paper with the rolled dough and place on one of the rimmed baking sheets.
Place some of the sliced apple rounds in a concentric circle in one even layer over the almond meal. Sprinkle some of the dark brown sugar, about a half-tablespoon, followed by a sprinkle of chai spice blend or ground cinnamon. Repeat with another layer of apple rounds, a half-tablespoon dark brown sugar, and chai spice. Carefully fold the pie dough up around the apples leaving the center open.
Repeat the rolling and layering of apples with second disk of pie dough, almond meal, apples, brown sugar, and chai spice blend.
Place both galettes in the oven. Bake for 40-45 minutes, switching baking sheets top to bottom halfway through baking time, or until the crust and apples are golden brown. If top starts to get too brown, place a piece of aluminum foil over galette. Let cool slightly before cutting into wedges. To serve, cut Autumn Glory apple galettes into wedges and place on serving plate. Top with a scoop of ice cream, if desired. Enjoy! Serves: 8-12