Yield: 2-3 cocktails
Skill level: Easy
What's better in the summer than a delicious cocktail!? Ice cold and refreshing with the perfect amount of sweetness and a splash of soda water for the perfect fizz. This bourbon smash is sweetened with Autumn Glory apple simple syrup and a hint of thyme. Simple, yet oh so yummy and a true crowd pleaser!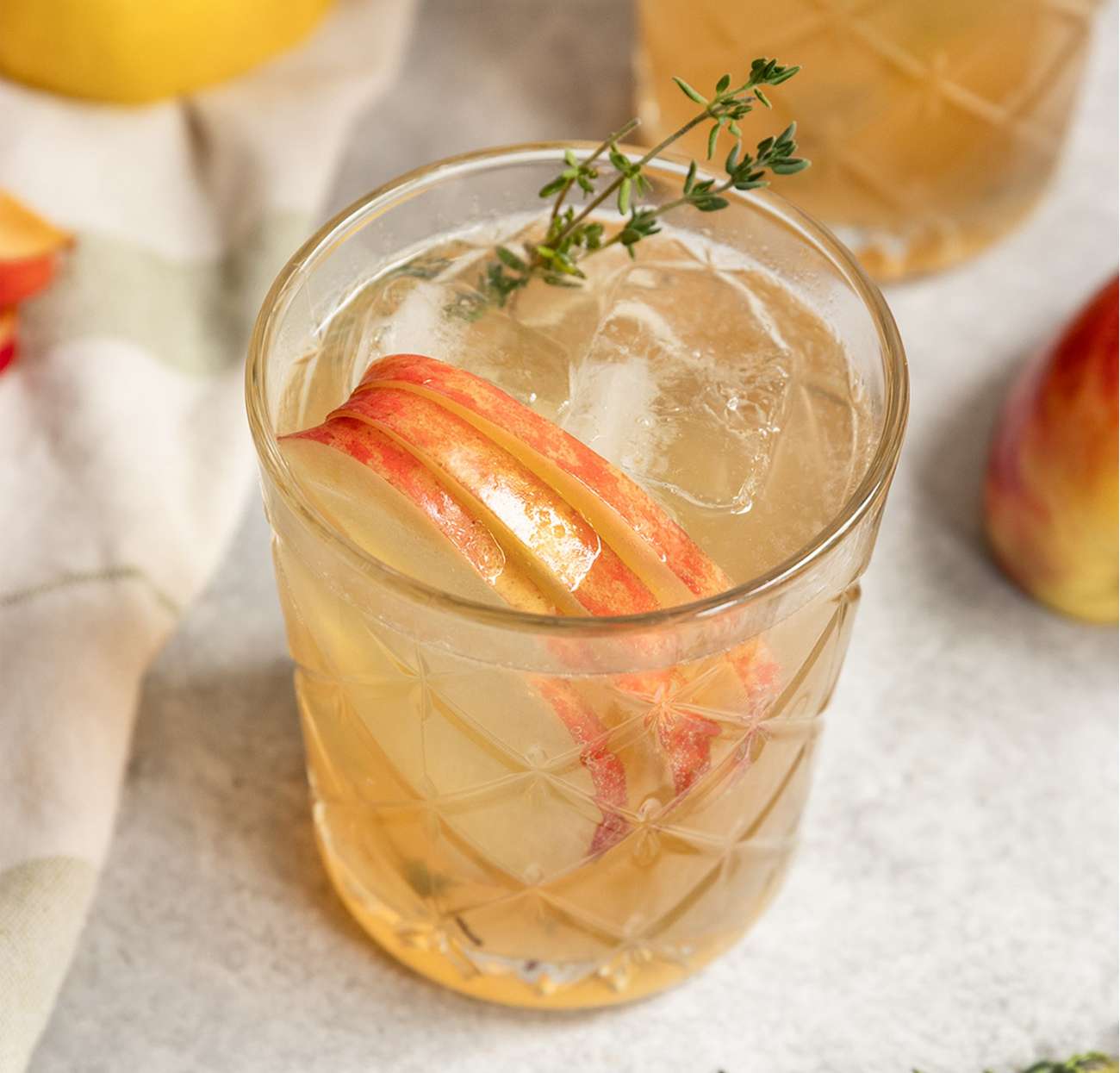 Ingredients:
Apple Thyme Simple Syrup (Makes enough for 2-3 cocktails)
1 cup diced Autumn Glory apple
1 cup water
½ cup organic sugar
4 sprigs fresh thyme
For one cocktail:
3 oz apple thyme simple syrup
1.5 oz bourbon
1 oz freshly squeezed lemon juice
3 oz soda water (lemon or unflavored)
3 apple slices (optional, as garnish)
1-2 sprigs dried thyme (optional, as garnish)
Instructions:
First, make the apple thyme simple syrup. Add the diced apples, water, sugar, and dried thyme to a small saucepan and bring to a boil. Once boiling, reduce the heat to a simmer and cook for 10-15 minutes, stirring continuously. The syrup is ready when the liquid has begun to turn a very light brown and caramelize and the apples are beginning to soften.
Remove the simple syrup from the heat and add to a container to cool completely before using. Store the simple syrup in the fridge for 1-2 hours for the best flavor.
Once the syrup has cooled, add it to a cocktail shaker and muddle the apples until all juice has been released. Then, fill the cocktail shaker with ice and shake vigorously to chill.
To make one cocktail, fill up a cocktail glass with 2-3 large ice cubes. Then, add in 3 oz apple thyme simple syrup, 1.5 oz bourbon, 1 oz freshly squeezed lemon juice, and top with 3 oz soda water. Stir together and garnish with fresh apple slices and dried thyme. Serve and enjoy!
Recipe created by Short Girl Tall Order for Superfresh Growers.