Yield: Serves 4
Skill level: Moderate
We're rolling out one of our favorite pear recipes in honor of National Pear Month! Organic Bartlett or Anjou pears, fresh thyme, and a tender and full of flavor pork chop marry together to create this savory skillet dish.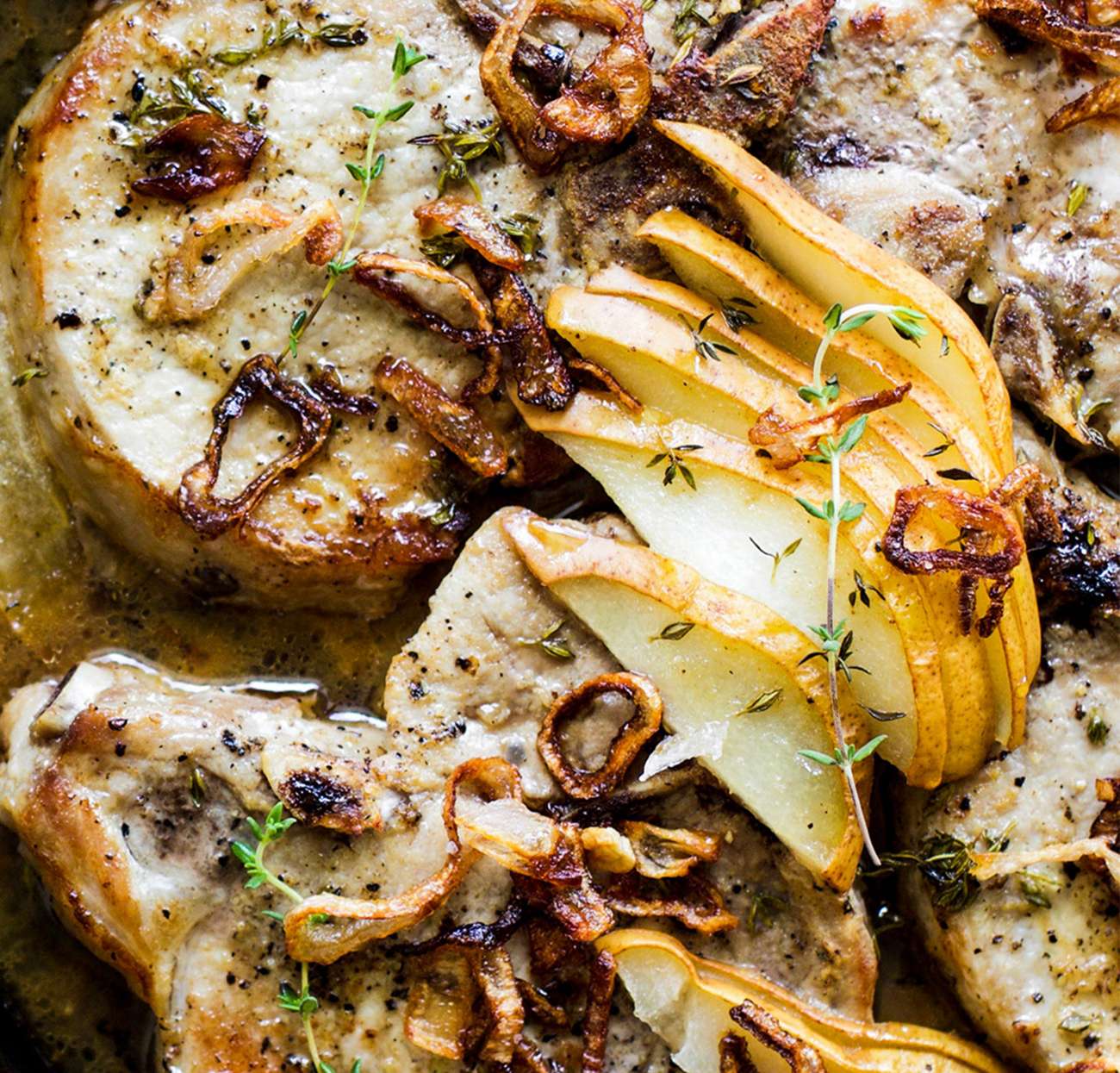 Ingredients:
4 bone-in pork chops
4 Superfresh Growers Bartlett or Anjou organic pears, sliced and core removed
4 tablespoons dijon mustard
1 teaspoon kosher salt
½ teaspoon black pepper
1 tablespoon fresh thyme
¼ cup chicken stock
2 tablespoons apple cider vinegar
1 tablespoon honey
1 large shallot, thinly sliced
¼ cup avocado oil
1 tablespoon avocado oil
Directions:
Preheat the oven to 400°F.
Heat ¼ cup of avocado oil over medium heat in a large oven proof skillet. Add sliced shallots while the oil is still room temperature.
Let the shallots slowly brown in the oil until they are crispy, stirring frequently to prevent burning. Take out and drain on paper towels and sprinkle with salt when they turn brown.
Drain the oil of that same pan and reheat the skillet over medium high heat.
Rub both sides of the pork chop with dijon mustard and season with salt and pepper.
When skillet is hot, place the chops in the pan to sear for about 5 minutes per side until they form a nice crust.
Mix together stock, thyme, and apple cider vinegar. Pour mixture into the pan after the chops are seared to deglaze the bottom of the pan.
Place sliced pears over top and around the pork chops and then place into the oven for 20 minutes until pork chops are cooked through.
The last minute of cooking drizzle honey over the top of the pork chops and pears and turn the broiler on in the oven for 1-2 minutes until the honey caramelized slightly.
To serve, top a pork chop with as much cooking liquid in the pan as desired, some pear slices, and a few crispy shallots!
Recipe created by My Diary of Us and Nosh and Nourish for Domex Superfresh Growers®.