Yield: 4 Burgers
Skill level: Medium
The fabulous Christi Lazar of BazaarLazarr has done it again! Christi, home chef and editor of The Feed Feed, has concocted this mouth-watering and superbly spiced Sweet Cherry & Arugula Lamb Burger. Fresh mint, cumin and coriander lend to a Mediterranean twist with just the right amount of exotic flavor. We love how the flaked sea salt brings out the succulent flavors of the Superfresh cherries! If you are looking for a new recipe for the grill this weekend, this burger is sure to please!

Ingredients:
1 lb. ground lamb
4 garlic cloves, crushed
3 tablespoons fresh mint, chopped
1 teaspoon cumin
1 teaspoon coriander
1 teaspoon kosher salt
¾ teaspoon ground black pepper
1 cup pitted Superfresh cherries (measured after pitting)
½ tablespoon olive oil
Sprinkle of flakey sea salt
4 hamburger buns (we used Brioche Rolls)
Unsalted butter, melted, for brushing buns
Arugula, washed and spun dry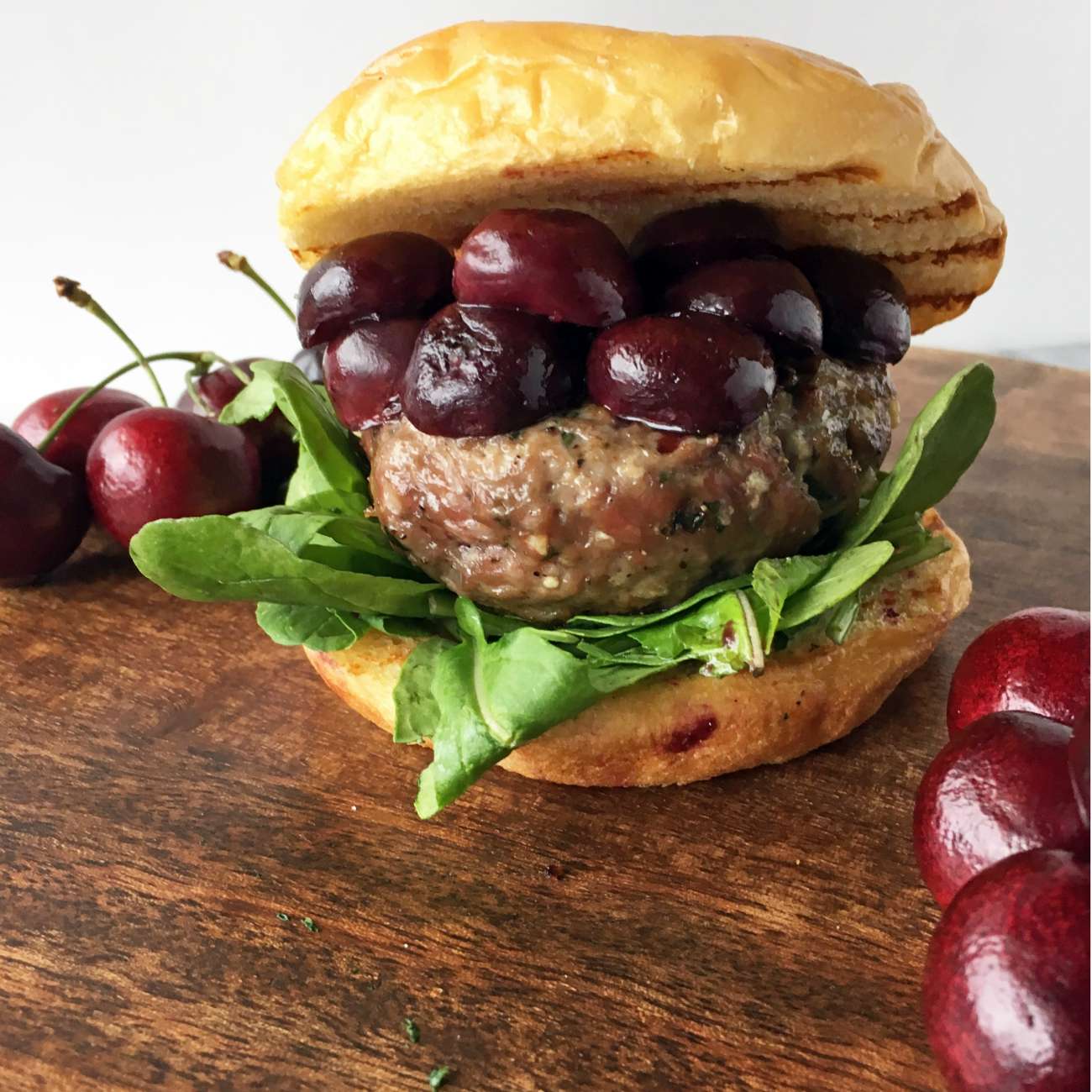 Directions:
To roast the cherries, preheat oven to 400° and line a baking sheet with parchment paper. Pit and halve the cherries, and then toss in olive oil. Spread a single layer of cherries on baking sheet and sprinkle lightly with the flakey sea salt. Bake for 10 minutes.
For the burgers, heat the grill to medium-high. Gently combine ground lamb, garlic, mint, cumin, coriander, kosher salt and black pepper. Make sure not to overwork the ground lamb. Form four 4 ounce patties. Reserve a clean area of the grill to toast burger buns. While burgers are grilling, brush the buns with melted butter and lightly toast on the grill. Grill lamb patties 6-7 minutes on each side, or until the burgers have reached an internal temperature of 160° (USDA recommended temperature for ground lamb). Once done, let burgers rest for 3 minutes before serving.
To assemble, top bottom bun with a handful of arugula, one lamb patty, and top with about a ¼ cup of cherries, before finishing off with the top bun!
Enjoy!