Hi friends! Luisa from Peaches to Pearls blog here to share another recipe to celebrate National Nutrition month! Last year I shared a nutritious breakfast and snack recipe, Cinnamon Apple and Pear Yogurt Bowls. This year I have another delicious recipe to share, Cinnamon Apple Bread. This recipe is super versatile because you can eat it for breakfast, dessert, or as a snack. I love having this in the morning with a little bit of butter and a warm cup of coffee. And not to mention it is a wholesome, plant-based recipe which makes it a great cholesterol-free option (just ditch the butter!).
Compared to other recipes, this one requires a small amount of sugar since the Autumn Glory® apples give it the perfect amount of natural sweetness. If you have been following Peaches to Pearls for some time now, you know how much I love Autumn Glory apples. I have been enjoying these apples for years now and never get tired of them! In my opinion, what makes Autumn Glory apples better than the rest is their natural sweet cinnamon taste. That's why I chose them for this specific recipe!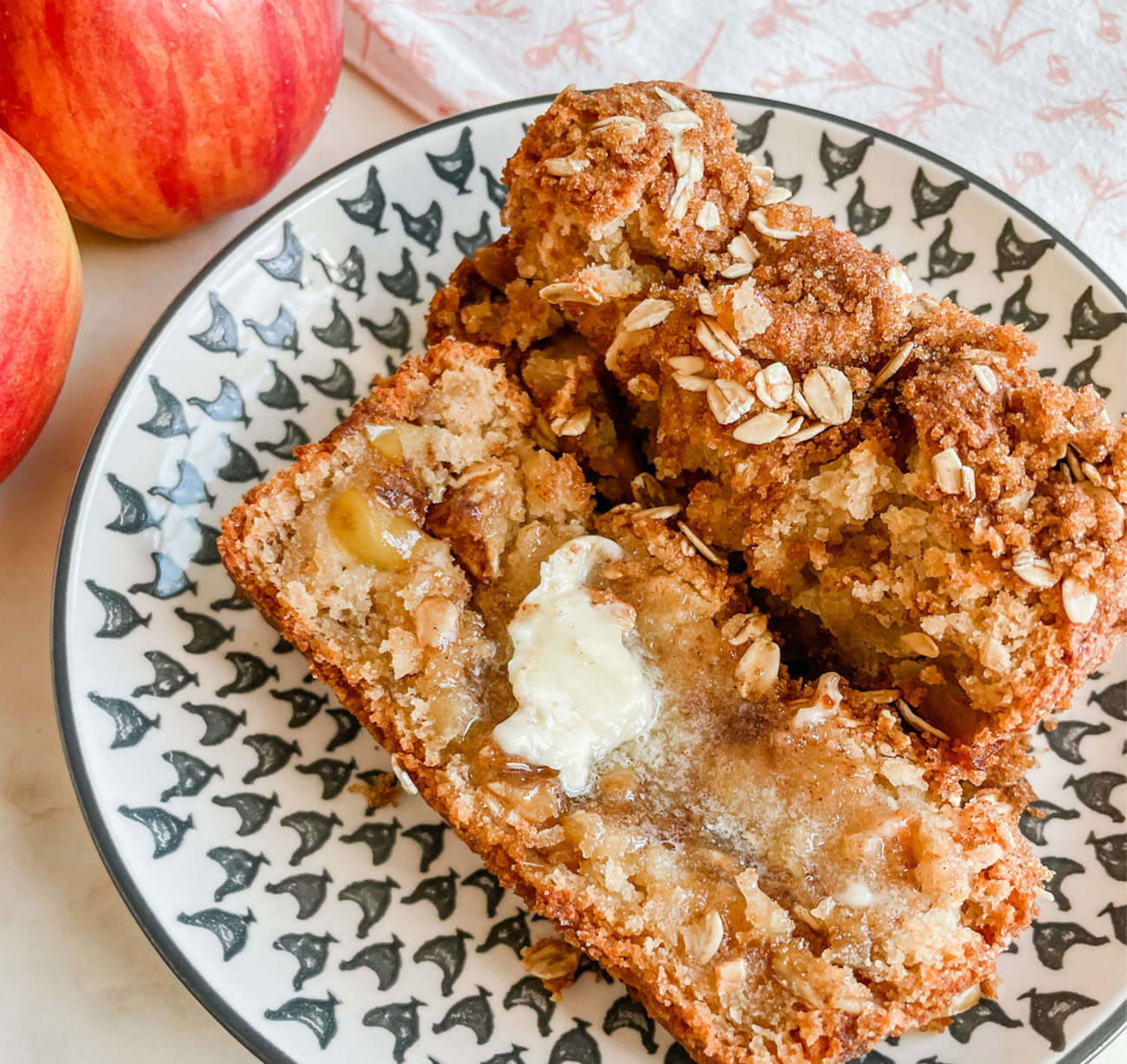 Apple Nutrition
We have all heard the famous saying "an apple a day keeps the doctor away". But WHY do they say that about apples? As I mentioned in last year's post, it is most likely due to the high fiber and antioxidants found in apples. They may offer health benefits, including lowering blood sugar levels and benefiting heart health.
Resources: https://pubmed.ncbi.nlm.nih.go...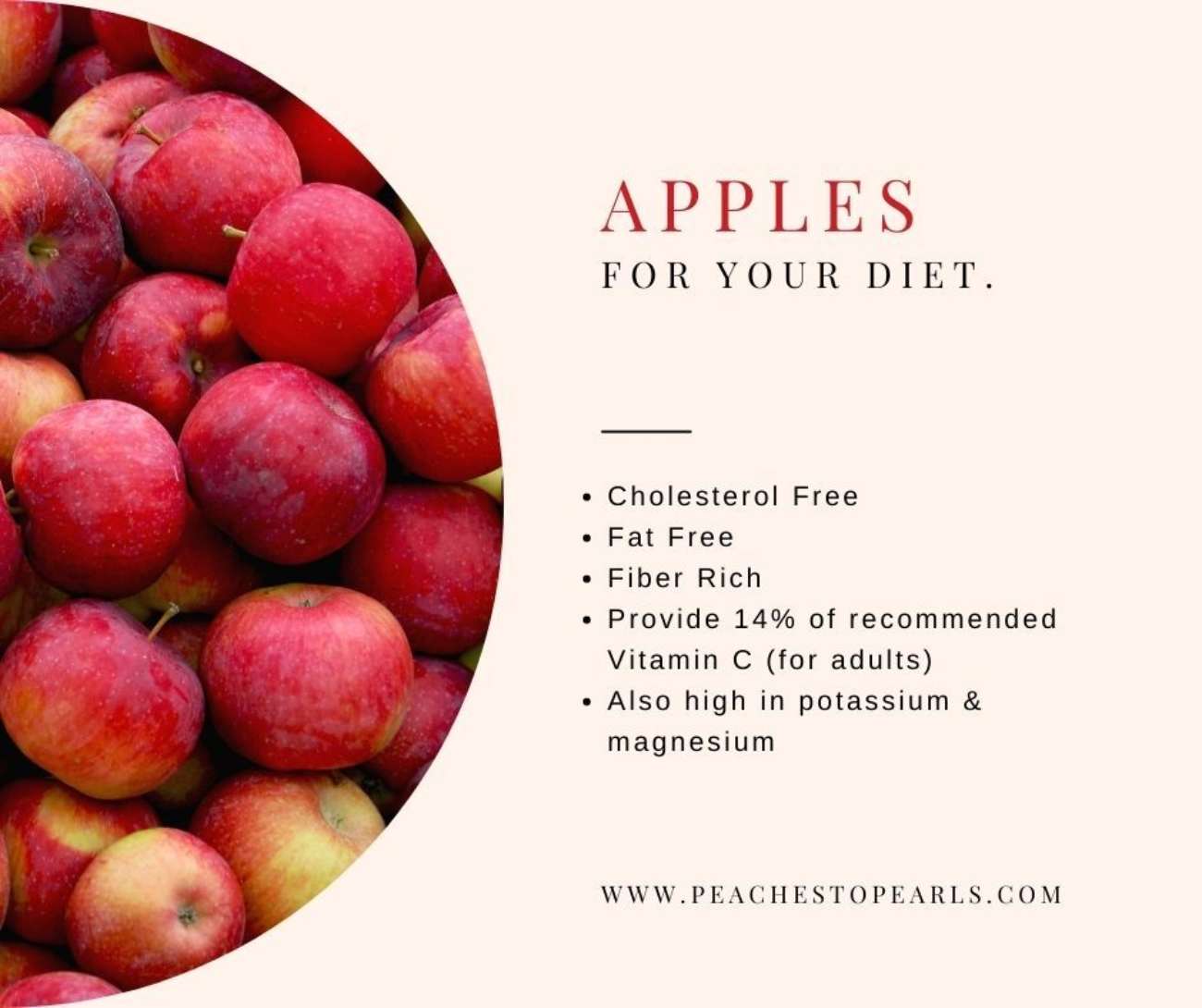 A Few Tips
Before we dive into the actual recipe, I want to share a few tips. In regards to the ingredients, there are a few changes you can make according to what you have at home. The recipe calls for oat milk but you can substitute cow's milk if desired. You can also use any type of flour including gluten-free flour.
Ingredients
For Bread Mixture
2 cups diced Autumn Glory® apples, keep skin on for extra fiber
2 cups flour of choice
2 teaspoons baking powder
½ teaspoon salt
½ teaspoon baking soda
⅓ cup sugar
1 cup milk of choice, I used Oat Milk
3 tablespoons oil of choice
For Apple Topping
¼ cup brown sugar
¼ cup rolled oats
1 teaspoon cinnamon
Directions
Preheat oven to 350°F.
Mix brown sugar, oats, and cinnamon together in a bowl and set aside.
Wash and dice apples with skin on. Place 1 cup of apples in a bowl. Set the other cup of apples aside.
Add all dry ingredients over apples and stir well.
Mix wet ingredients into a separate bowl. Slowly add in the apple mixture and gently mix well.
Pour half the apple batter into the greased loaf pan.
Cover with ½ cup diced apples.
Sprinkle half of the sugar, oat, and cinnamon mixture.
Pour the remaining batter.
Top with remaining (½ cup) diced apples and remaining brown sugar mixture.
Bake for 45 minutes or until fully baked (you can check with a toothpick or knife).