There is nothing more fun than trying out a new drink recipe this time of year! We have rallied up our all-time favorite refreshments for the season. Cocktails, mocktails, cider, juice, and even a hangover cure, there is truly something for everyone! Give one (or more) of the recipes below a try this Christmas!
Autumn Glory Spiced Apple Cider
Autumn Glory spiced apple cider is a fall and winter staple! Simply throw all the ingredients in your slow cooker for a simple and festive homemade drink for the whole family! Plus this cider is served deliciously both hot and cold!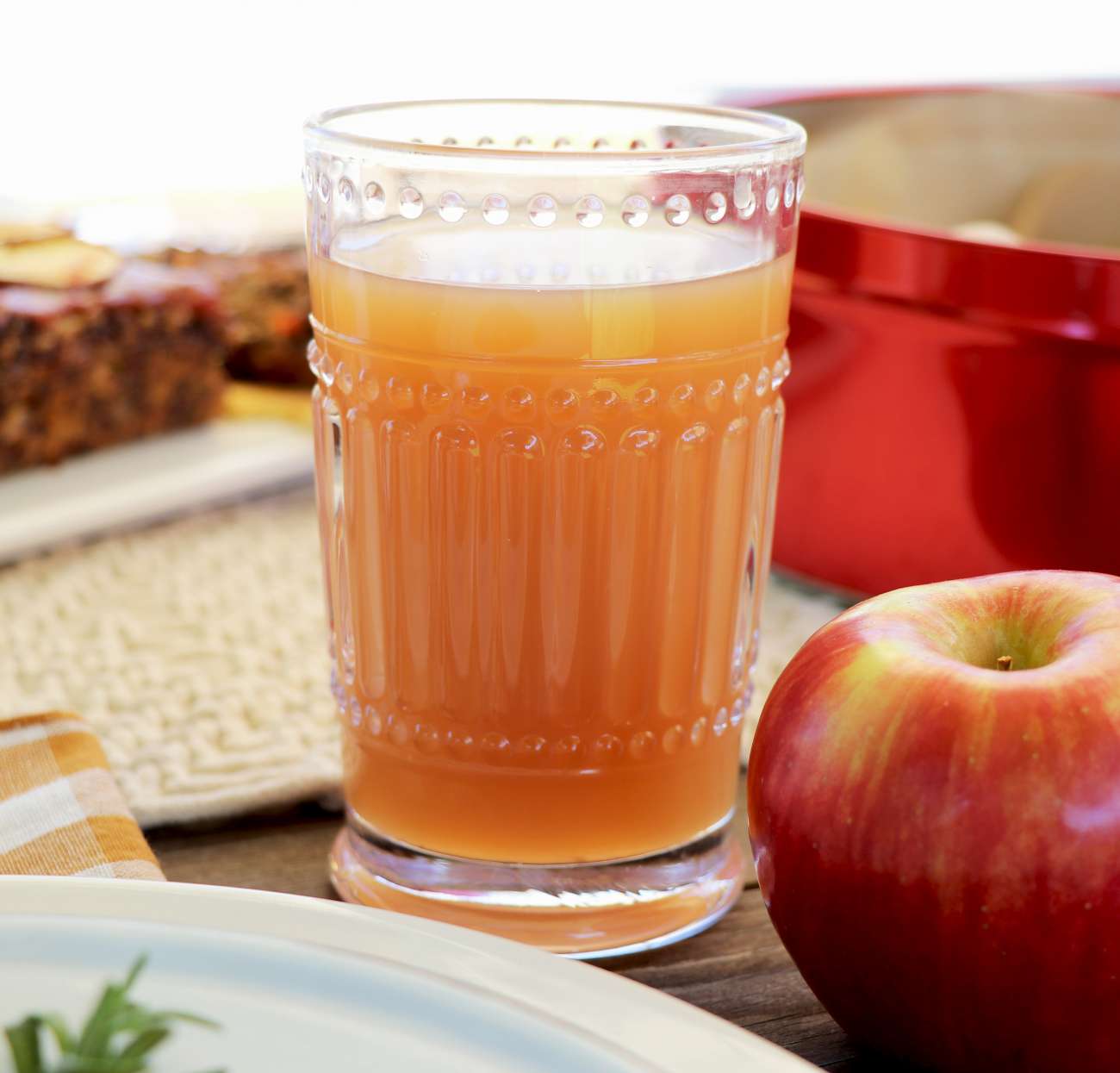 Ingredients:
10 Autumn Glory® Apples
1 cinnamon stick
1 tablespoon whole cloves
1 tablespoon whole allspice
1 navel orange, peeled and sliced
Directions:
Add all ingredients into a slow cooker and cook on high for 2 hours or low for 4 hours. Serve hot or cold, enjoy!
Recipe created by Healthy Grocery Girl for Domex Superfresh Growers®.
---
Sage and Apple Bourbon Mule
Autumn Glory Apple and Sage Bourbon Mules are the key to our fall loving hearts! This unique party cocktail will surely take you up a hostess level or two!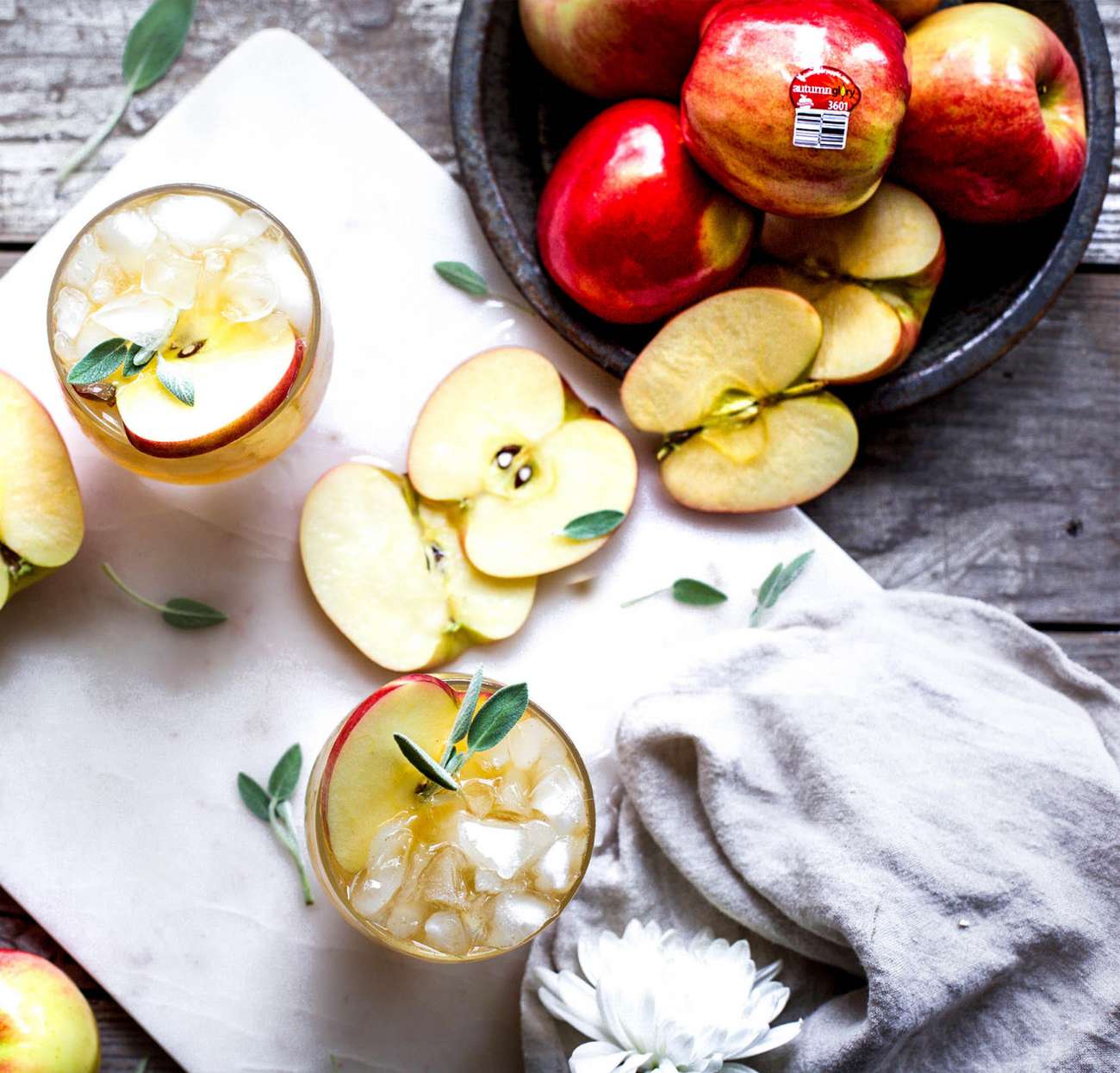 Ingredients:
½ cup water
¼ cup honey
2 tablespoon fresh sage leaves
1 diced Autumn Glory® apple plus extra for garnish
1 ginger beer
4 oz. bourbon
crushed ice
Directions:
Make simple syrup by combining water, honey, sage leaves, and apple into a pot and bring to a boil. Turn off heat and let sit for 5-10 minutes. Strain and chill completely.
Make cocktail by combining 2 oz. Simple Syrup into a cocktail shaker with bourbon and ice.
Fill two cocktail glasses up with crushed ice and then pour apple sage and bourbon mixture over top.
Top off with ginger beer and garnish with fresh sage and apples. Serve immediately.
Recipe created by My Diary of Us for Domex Superfresh Growers®.
---
Asian Pear Juices for the Winter Blues
We have THREE amazing asian pear juice recipes that can help you this holiday season (in more ways than one). Research reveals that Asian pear juice can help prevent a hangover... perfect time for holiday parties! The South Korean study found that drinking 220 ml, just under one cup, of Asian pear juice before drinking alcohol can prevent hangover symptoms.
At Superfresh Growers® we love drinking straight, fresh Asian pear juice. But, if you are looking to mix things up a bit, or are looking for a festive holiday drink this season, here are a few suggestions!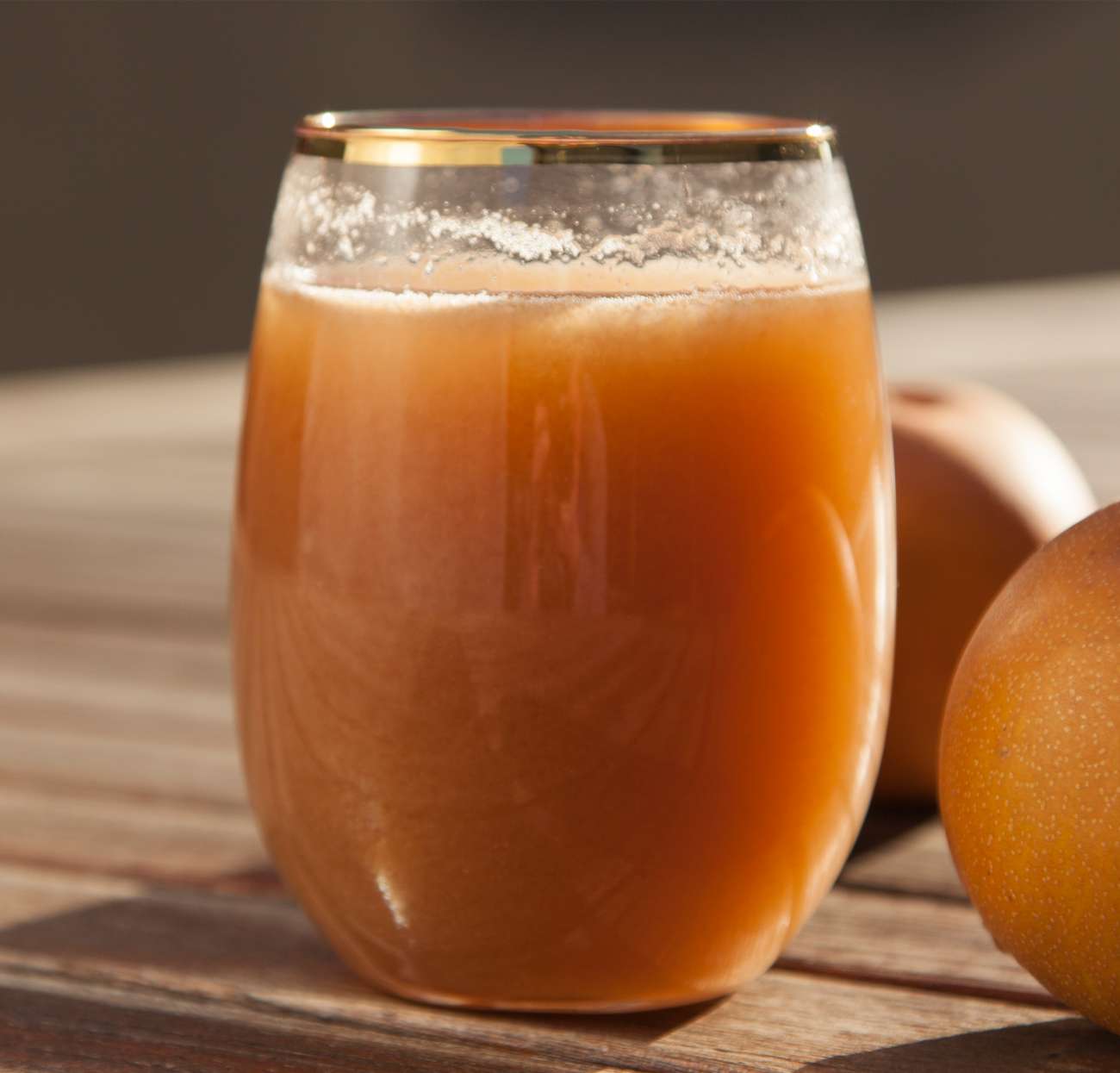 Immune System Booster Juice
3 medium Asian pears
¼ lemon
1-2 inches of fresh ginger root
1 teaspoon turmeric
Juice pears, lemon and ginger root. Stir in turmeric and enjoy busting those cold blues away!
Bubbly Winter Mocktail
4 medium Asian pears
1 sweet apple, such as Autumn Glory® or Fuji
¼ lemon
Cardamom bitters
Sparkling water
Juice pears, apple and lemon. Pour juice evenly into two glasses. Add ~5 drops of cardamom bitters into each glass, and then top off with sparkling water.
Heart Beet Juice
3 Asian pears
2 carrots
1 beet
¼ lemon
1 inch of fresh ginger root
Juice all ingredients and enjoy this earthy-sweet juice!
---
Autumn Glory Apple Shrub Punch
This creative cocktail is perfect for all your holiday season get-togethers and will surely be a party favorite. Our Autumn Glory® apple and its cinnamon and caramel notes are a sweet addition to the brandy and bourbon, making this a fantastic drink for all to enjoy! Serve up this recipe for your party guests or bring it to your hostess this holiday season.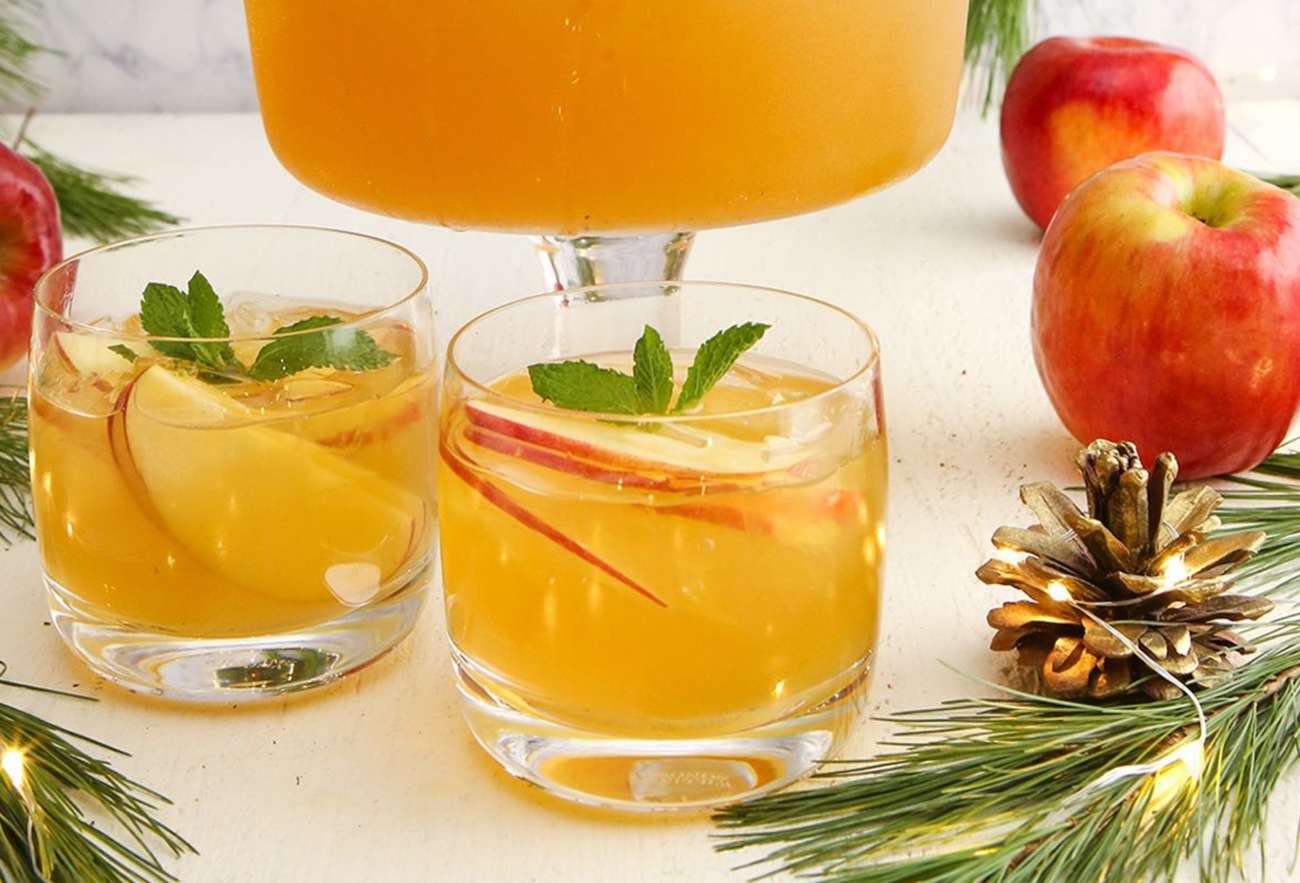 Ingredients:
Apple Shrub
3 Autumn Glory apples, skin on, shredded
1 cup apple cider vinegar
¾ cup raw cane sugar
1 cinnamon stick
3 cardamom pods, lightly crushed
3 "coins" of fresh ginger (about ¼"), lightly crushed
Punch
1 ½ cups bourbon
½ cup prepared apple shrub
¼ cup apple brandy
¼ cup apple cider
⅓ cup freshly squeezed orange juice
4 dashes bitters
1 ½ cups sparkling water
Nutmeg to taste
1 Autumn Glory apple
Fresh mint (for garnish)
Directions:
Add all apple shrub ingredients to a quart sized mason jar, seal with air-tight lid, and shake vigorously.
Refrigerate for 2 days.
After 2 days, strain the apple mixture and discard the solid materials.
Combine bourbon, apple shrub, apple brandy, apple cider, orange juice, and bitters in a large punch bowl.
Stir until mixed, then add ice.
Top with sparkling water and garnish with nutmeg, fresh apples, and mint.
Serve and enjoy.
Recipe created by The FeedFeed for Domex Superfresh Growers®.
---
Granny Smith Hangover Knockout Juice
When you've enjoyed yourself a little too much at the Christmas party, remember this recipe for your next day recovery! Packed with antioxidant rich fruits and vegetables, this drink helps to rehydrate the body after a night out celebrating. Apples are rich in antioxidants and anti-inflammatory flavonoids and carotenoids. As the main base for this drink, apples are packed with vitamin C and fructose. Fructose helps to raise blood sugar levels and increases alcohol metabolism. A knob of ginger help to soothe the stomach, a shake of turmeric helps target liver health, and more fruits & veggies help to increase the vitamins and minerals that were lost during alcohol consumption.
Made of whole, fresh ingredients, this juice is easy to digest and a fast and easy way to boost your body back into healing itself after a night out.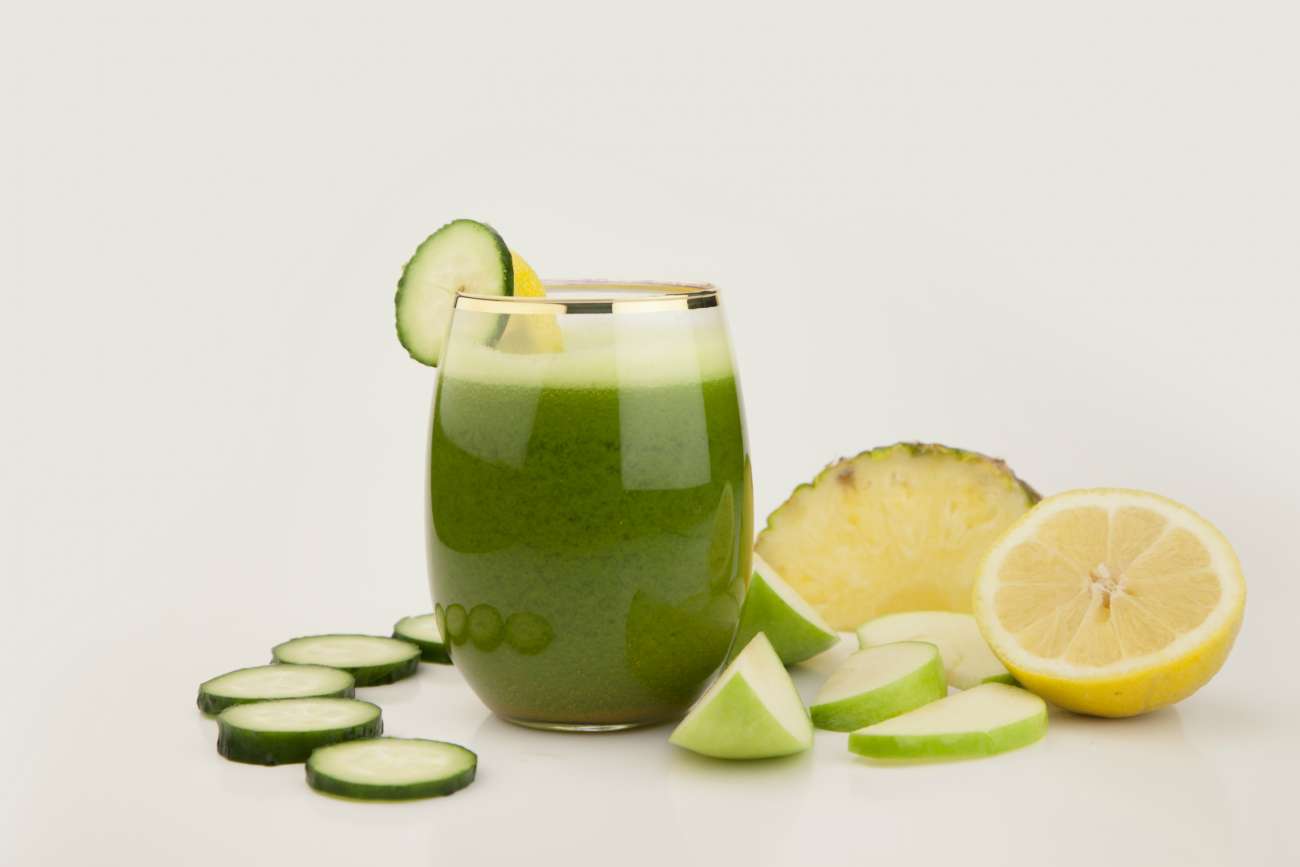 Ingredients:
2 Granny Smith apples
1 large handful of spinach
¼ of a small pineapple
½ of a cucumber
¼ of a medium lemon
Knob of ginger
Generous shake(s) of turmeric
Directions:
Prepare the produce for juicing: cut the apples into quarters, and cut the peel off the pineapple and lemon. Juice all the ingredients, but save the turmeric for the end. Pour juice into glasses, and then shake turmeric into each glass and mix in. The more turmeric added, the spicier/earthier the flavor will be.
---
Pear Margaritas with a Tajin Rim
Mix up your holiday party with this spicy pear margarita!
Ingredients:
1 ripe pear, Anjou or other
4 oz. tequila 2 oz. lime juice
½ oz. Grand Marnier or other orange liqueur
Pinch of jalapeño pepper
optional Pinch of salt Tajin
Directions:
Mix pear, lime juice, Grand Marnier, jalapeño pepper (if desired), and salt in a blender. Pour 2 oz tequila into each glass filled with ice. Finish filling each glass with pear mixture and stir. Garnish with a fresh lime wedge and Tajin rim. This margarita is also delicious blended rather than served over ice.
Recipe originally created by USA Pears®
---
Autumn Glory Apple Margaritas with Rosemary and Black Pepper
The pink-blush hue of these Apple Margaritas add some cheer during these darkest days of the year. Autumn Glory® apples combine with tequila, rosemary and black pepper syrup for savory-sweet combination that adds some cheer to winter festivities. The skin of the Autumn Glory apples creates the cheery pink hue in this seasonal cocktail.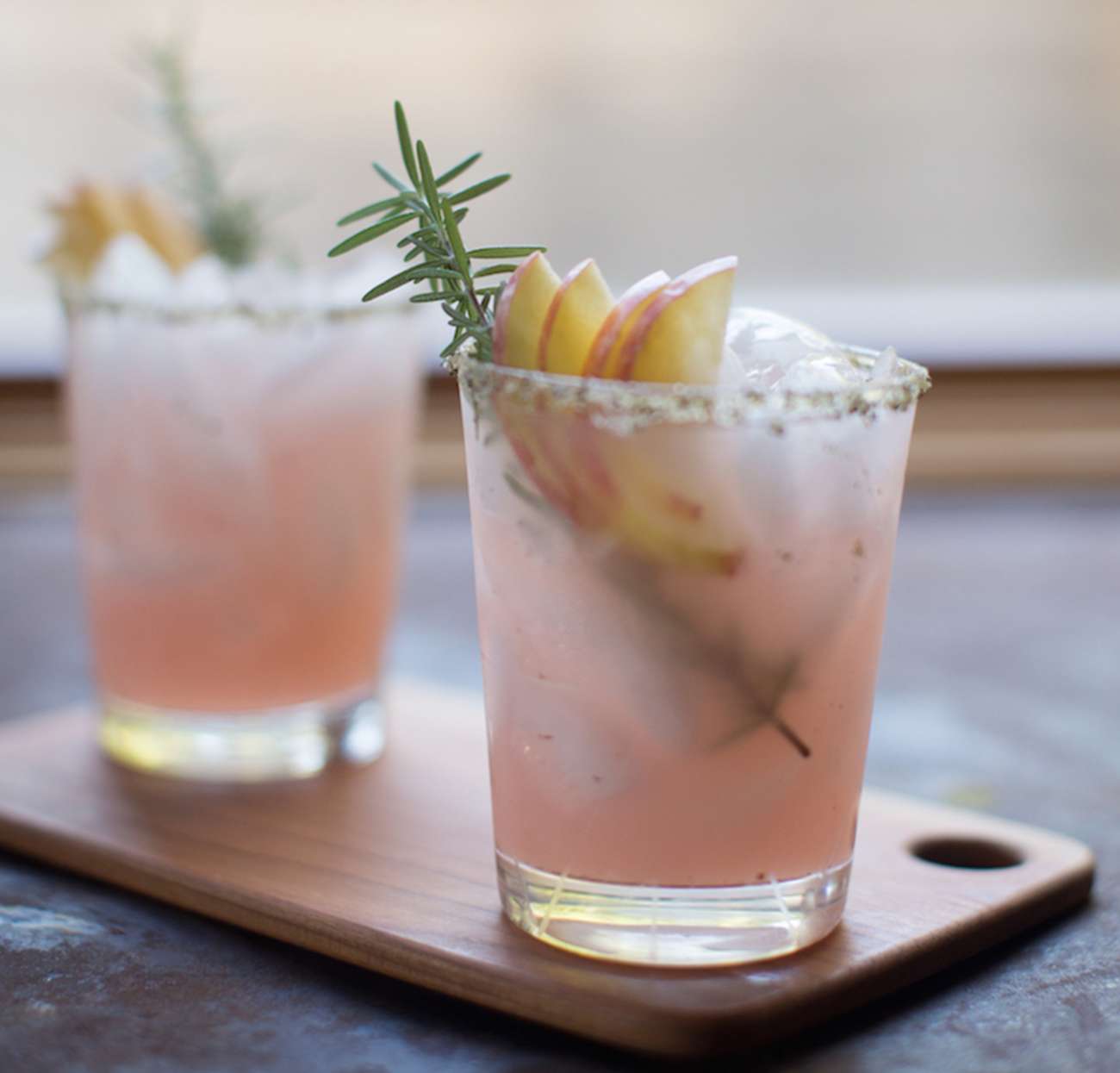 Ingredients
9 Autumn Glory apples, washed and dried
1-2 cinnamon sticks
1 cup granulated sugar
1 cup water
1 small bunch of rosemary, chopped coarsely and divided
1 tablespoon black peppercorns, divided
2 lemons, halved
½ cup tequila
Directions
To make the homemade apple juice/syrup Cut 8 apples into slices, removing the core but leaving the skin. Place the apple slices and cinnamon stick(s) in a large stockpot and cover them just barely with water. Bring to a boil and then reduce to a simmer, cooking for 25-30 minutes until the apples have softened. Set aside to cool.
To make the black pepper rosemary simple syrup Combine the sugar, water, rosemary (all but 1 tablespoon and two sprigs for garnish) and half of the black peppercorns. Bring to a boil, and stir until the sugar is dissolved. Set aside to cool.
To make the black pepper rosemary salt Chop the remaining rosemary and grind the remaining black peppercorns (this amounts to a few good grinds from a pepper grinder) and blend it with kosher salt. Alternatively, you can use a pre-prepared rosemary salt like the version from Jacobsen Salt Co.
To make the margaritas When all of the ingredients have cooled to room temperature, it's time to make the margaritas. Spread the rosemary black pepper salt on a small flat dessert dish. Fill a cocktail shaker with ice and the juice of the two lemons. Add ½ cup of the apple juice, the tequila, and ¼ cup of the rosemary black pepper simple syrup. Rim two cocktail glasses with the cut side of the lemons, and then coat the rims with the rosemary black pepper salt. Fill the glasses with ice, and then put the lid on the shaker and give it a good shake. Strain the margaritas into the two glasses.
Thinly slice the remaining apple for garnish. Add the garnish – the rosemary sprig and a few pieces of the sliced apple.