The latest Nielsen dataset* indicates that Cosmic Crisp® and Autumn Glory® apples are gaining serious momentum with consumers. Both varieties led the national apple category in percentage growth of dollars and pounds, for the 3 months ending February 27.
Autumn Glory sales increased 40% in dollars and 88% in pounds. Average retail price was at $2.06, ideal for consumer trial, yet strong relative to the category. Looking at absolute pounds increase, Autumn Glory ranked #6, and in dollars ranked #9.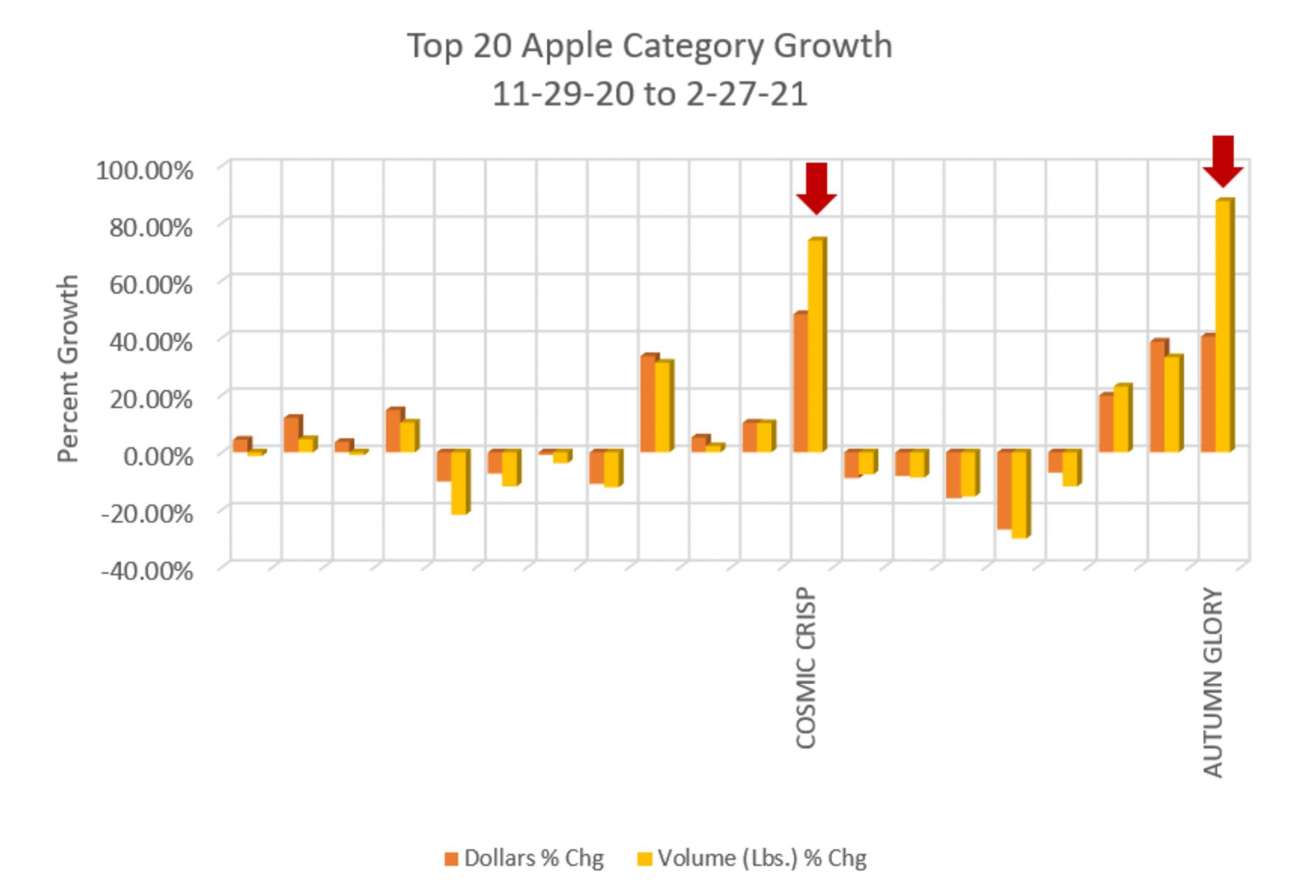 "Autumn Glory is one of the highest ranked branded apples with customers who purchase it both in stores and online. During the recent explosion in online grocery shopping, it has proven to be a durable apple that holds up during 'the last mile,'" explains Catherine Gipe-Stewart, Communication Manager. "We are always complimented on Autumn Glory's unique flavor profile, but receiving high ratings after this pandemic year of at-home delivery is truly the ultimate compliment."
In only its sophomore year, Cosmic Crisp® apple is breaking barriers that took other varieties decades. In the last quarter alone, Cosmic Crisp brought in $15 million dollars. Cosmic Crisp was up 48% in dollars, and 74% in pounds in the 3 months ending February 27. Average retail was a strong $2.63, but down -$0.46 less than last year, which should drive further adoption. Anticipate Cosmic Crisp to continue climbing the apple rankings in the coming months and years. The excitement around the apple, and the volume expected, will continue to launch this Apple of Big Dreams™.
*Nielsen Data November 29, 2020 – February 27, 2021