Superfresh Growers® is thrilled to introduce the apple and pear industry's first fruit bag made from post-consumer recycled plastic (PCR).
Post-consumer recycled plastic is made from things people recycle daily, like plastic bottles, milk jugs, and other bags – all sourced from USA recycling centers, and can be continuously recycled.
Superfresh Growers PCR bag is SGS Global Services® certified and FDA food-contact approved. The recycled materials in this PCR plastic originated in the United States. The cost of these bags is similar to a bag made from 100% virgin plastic, which is truly a win for the consumer, environment, grower, and retailer.
This initiative represents one of many efforts by Superfresh Growers to reduce its ecological footprint and conserve resources. Tyler Weinbender, Director of Sustainability and Packaging, says, "The PCR Bag was an idea we formed a couple of years ago – we wanted a solution that could utilize recycled plastic resin and give it new life. As more products utilize PCR, it will help generate a market for that recycle stream, driving demand and increasing recycling rates."
The complicated project closed one of the last recyclability gaps for Superfresh Growers. "There were hurdles, but our local printer was aligned with our concept and helped make it a reality," says Weinbender. "We are already using recycled corrugate in our boxes and pulp trays, as well as PET in our cherry and berry clamshells, so the PCR Bag fits nicely into our sustainable packaging goals."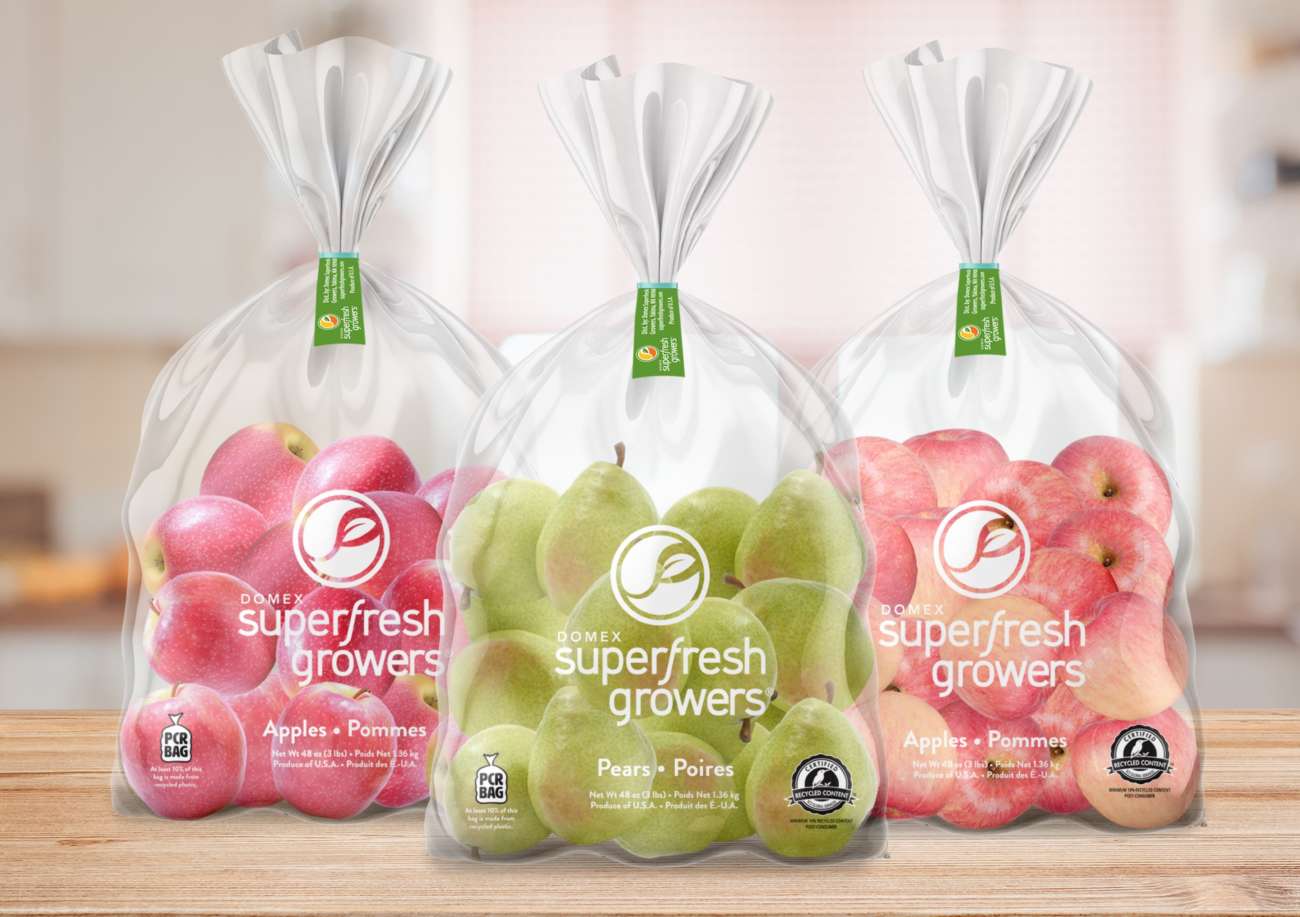 According to Weinbender, the landscape of sustainable packaging options is extensive and, in some cases, misleading. Companies must be vigilant to ensure they invest in technologies that advance sustainability goals. "We've seen a handful of new paper packaging options for apples recently but ultimately found that they require more energy and water and have a higher carbon footprint than monofilm bags. Additionally, we can minimize freight emissions by partnering with our local printers. Roughly two-thirds of our bags are made right here in Central Washington State – something I'm really proud of."
The Superfresh Growers PCR bag can be recycled through current plastic bag and film recycling streams, such as in-store drop-off.
As this innovative design is added to their packaging lineup, Superfresh Growers is excited for continued growth in packaging sustainability and carbon footprint reduction. With a team of seasoned experts on the task, this is only the beginning for sustainable strides to come!