When walking down the hallways of Perry Technical Institute, Adam Lisk, IT Help Desk, is proudly on display along with a few other key alumni. The plaques show off graduates and their career paths in information technology. Adam started at Superfresh Growers® in May of 2017 as an intern. He graduated later that spring and became a full time employee later in the year. Adam is an essential member of the Superfresh team as the official Help Desk for our corporate office, warehouses, and ranches.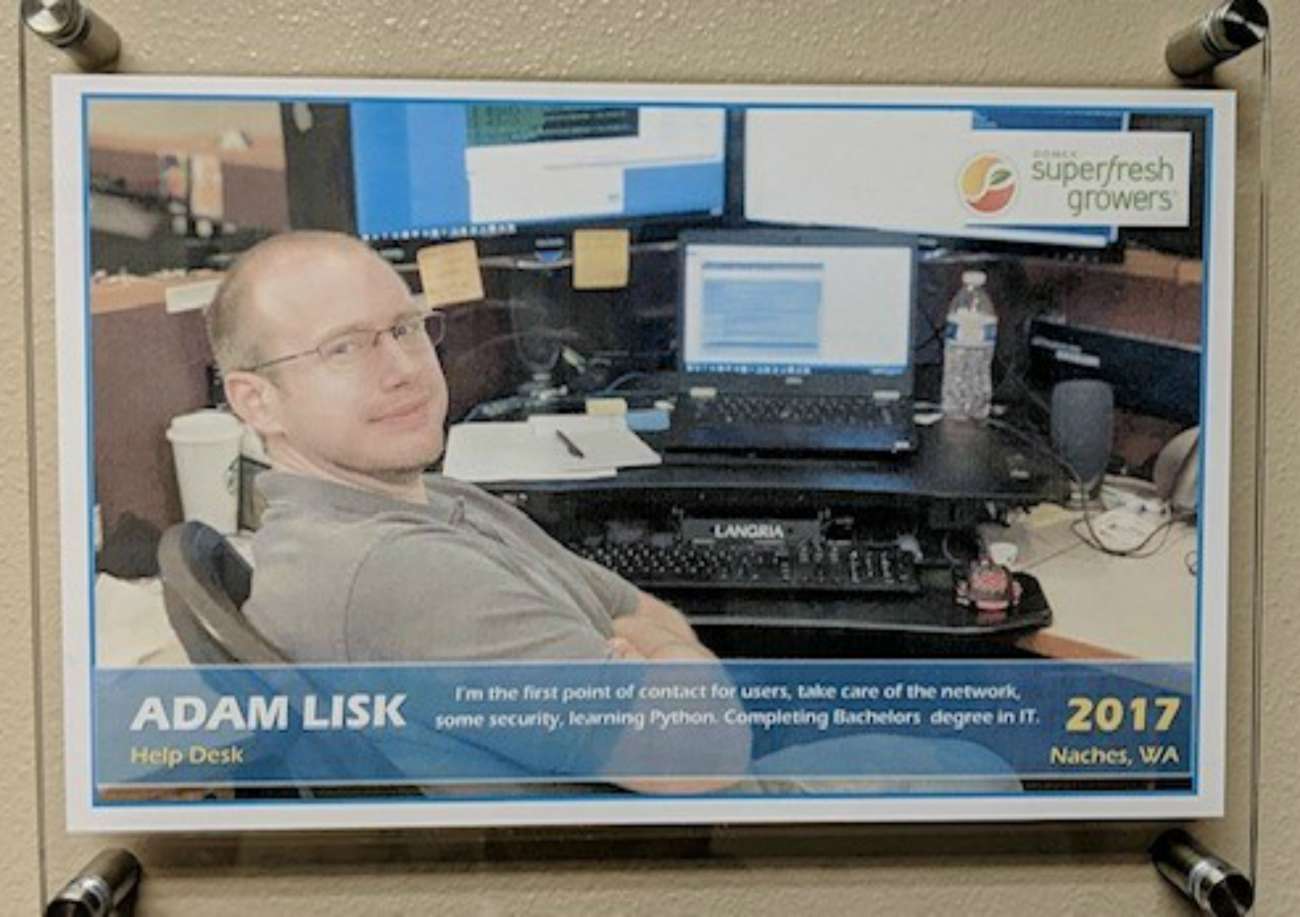 His main job involves solving issues for the end user of machines they are working with. One of his current projects is switching Superfresh Growers to new software while also removing old spinning disk hard drives for faster solid state drives. He is repeating this project for the warehouses and farms. Adam wears many other hats, filling in for his IT colleagues when needed. Adam is also trialing project management software before rolling it out to all departments. "A lot of the issues I have come to find are little tweaks of software that can take anywhere from five seconds to hours to fix," Adam explains. He continues to push Superfresh Growers forward to be the cutting edge of technology and to drive efficiency.
Adam graduated with a Technical Degree from Perry Tech. The IT program creates a solid foundation for networking, the communication between devices, and how to troubleshoot issues. He received multiple certifications working on laptops, towers, and network gear. While working a full time job at Superfresh Growers, Adam went to Western Governor's University (WGU) online, and graduated with a Bachelor's of Science in Information Technology. Superfresh Growers encourages continuing education and is proud of Adam for completing his degree while working full time.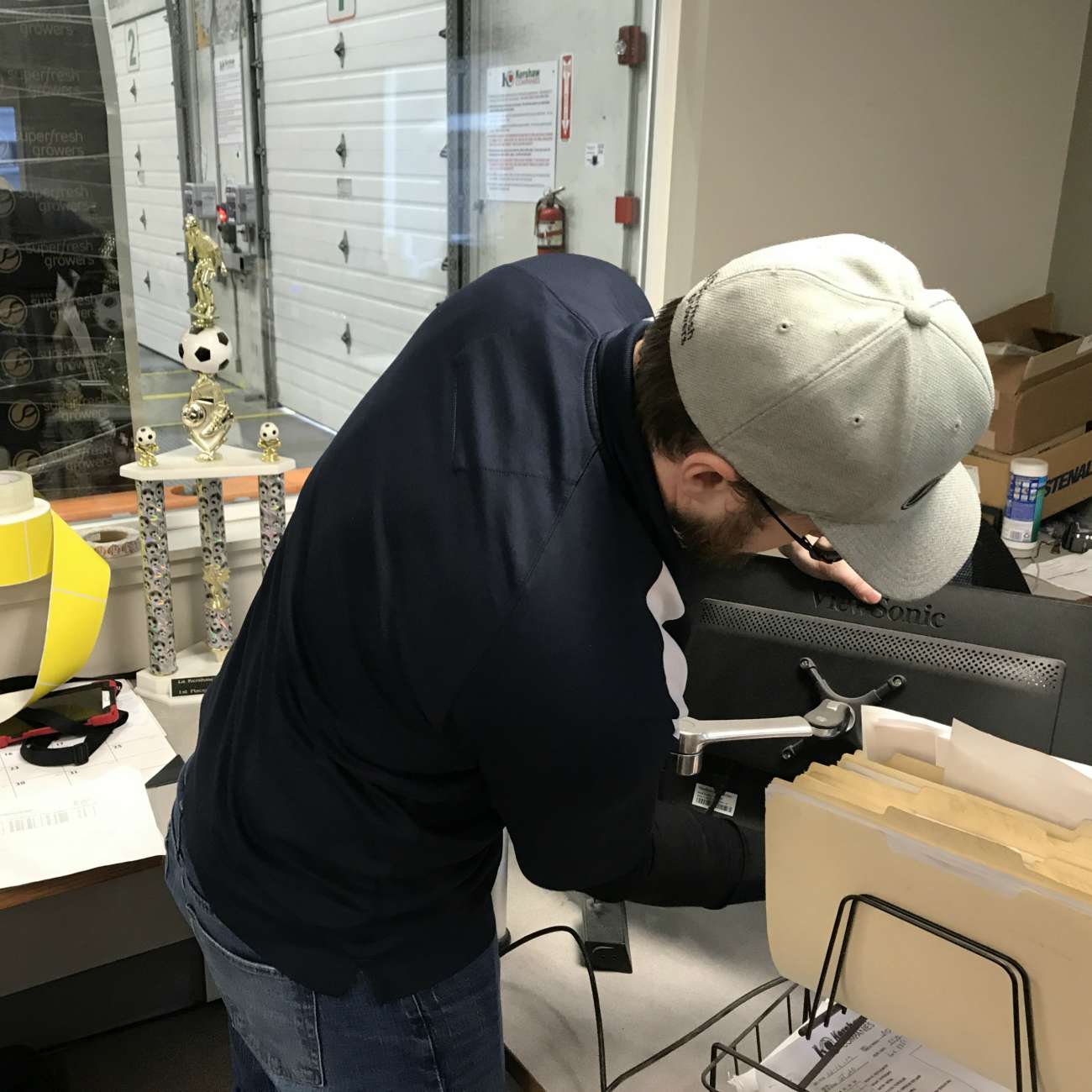 Adam has many good stories working in IT over the years at Superfresh Growers, but his favorite was from earlier this year. "My greatest moment was being on the phone with a colleague who was traveling in another country. She was in an Apple Store in another country and her cell phone was locked with no way to get into it. The store was going to wipe the device, but I unlocked the device from the office, and it instantly allowed her access. She was so happy that it made me really happy," Adam recalls.
Outside of work, Adam says, "you can find me at the gym in the mornings, but in the evenings I am spending time with my wife and kids," ages two and five. "My boys like to watch me tinker with electronics, and I answer their questions in a way I hope they understand."
It seems that it was fate that brought Adam to Superfresh Growers. His grandfather worked in the Superfresh orchards in the past, his father was a forklift driver, and his mother worked on the packing line. Without Superfresh Growers, "I probably wouldn't be here because my dad met my mom on the packing line. Crazy I know."
Adam is someone the office can rely on. He is always up for a new challenge and quickly goes above and beyond a simple fix to make sure that the problem is solved completely, preventing future issues. Adam thinks ahead on how he can better the company and ease technological processes. He is one to think outside of the box and problem solve well. Adam's willingness to take on any IT challenge is what makes Adam the Force Behind Fresh®.