YAKIMA, Wash. August 15, 2019
Superfresh Growers® honored recipients of its scholarship programs at the annual Washington Apple Education Foundation (WAEF) luncheon. The event, which also celebrated several other local scholarships, marked 25 years of community service by WAEF.
WAEF administers Superfresh Growers Kershaw Companies Scholarships, which are available to employees and their children. This scholarship awards $5,000 per year, renewable for up to four years of undergraduate studies. The scholarship is available each year to one additional student. This year we congratulated Joselin Marin as the 2019 recipient. In addition to Joselin, three other students are actively drawing scholarships, which were re-issued at the luncheon: Adilene Badillo Hernandez, Imelda Andrade Anguiano, and Ilse Manzanarez Leyva. Our final scholarship was awarded to Carli Short, who was selected to receive the Brian Kershaw Memorial Scholarship this year.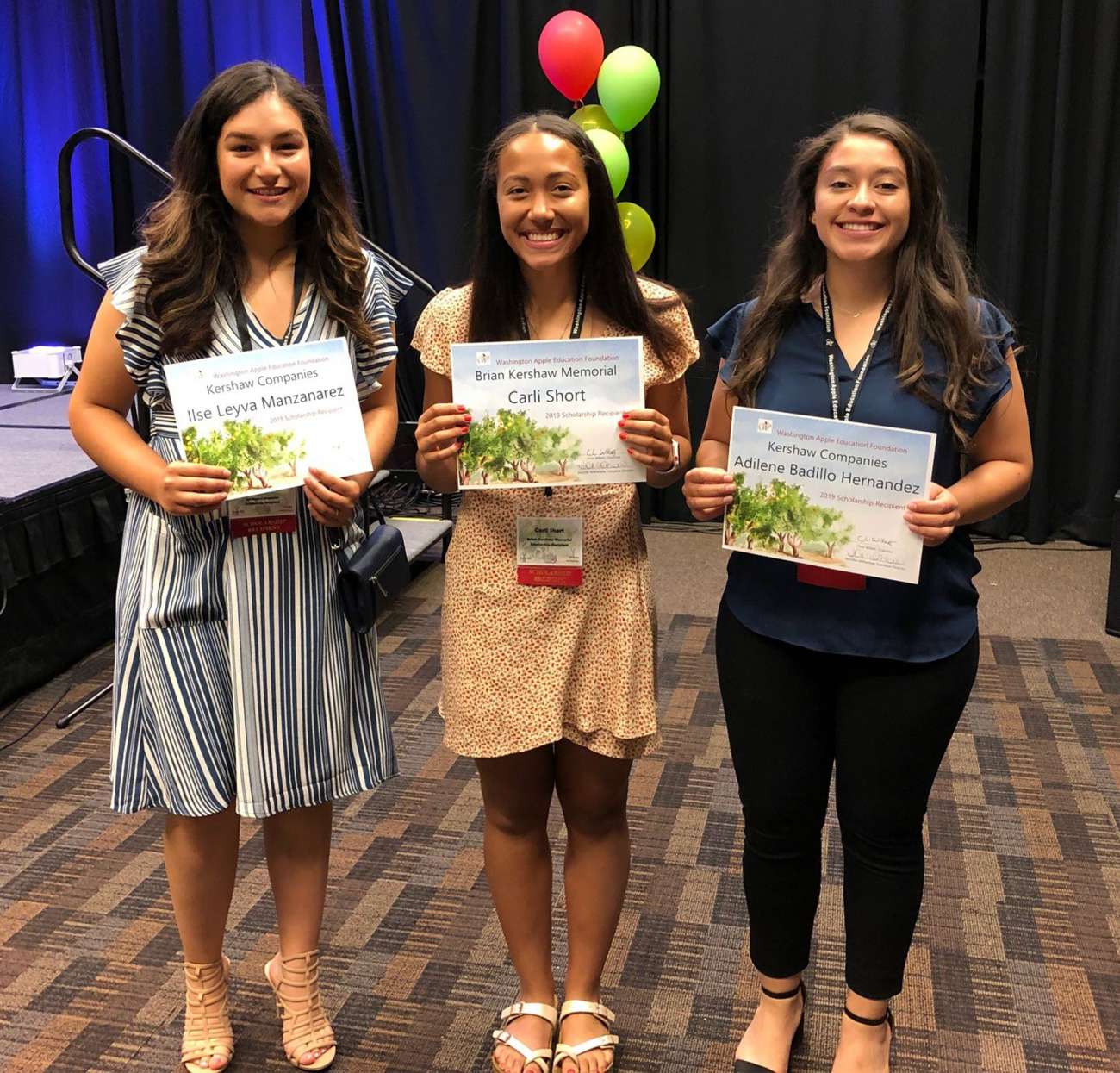 Joselin is the daughter of Kershaw Companies employee Aracelli Badillo Islas and Oscar Marin Flores. She graduated from A.C. Davis High School with 3.9 grade point average, and her transcript is filled with International Baccalaureate courses. Joselin would like to attend the University of Washington to pursue a career in education. She would like to make a difference to students, just like her teachers did for her.
Adilene in now in her second year with the Kershaw Companies Scholarship. She works as a Sales Assistant for Superfresh Growers and plans to transfer to university for her final two years of school. She has enjoyed her time at Superfresh Growers so much that it has led her to change her major from Dental Hygiene to International Business. Adilene is the first college student in her family, and says "all the help I've received big or small means the world to me. I really could not be doing any of this without the love and support from my friends, family and awesome coworkers". She currently has a 3.7 cumulative GPA.
Imelda, a University of Washington student, is now in her third year as a scholarship recipient. She is studying psychology and would like to work for a non-profit in the future. Through UW, she has enjoyed opportunities to volunteer in schools, where she is learning about child behavior. Imelda is watching her budget closely to help reduce financial stress and stay focused on her studies. She is the daughter of Kershaw Companies employee Marisol Anguiano Diaz. Ilse achieved renewal for her final year as a Kershaw Companies scholar. Ilse will graduate from Heritage University next spring with a business administration degree. She plans to pursue a managerial career. Ilse has dedicated herself to learning while enrolled in college, earning a 3.57 grade point average. She is also continuing to contribute to her family. She lives at home and helps to pay rent and other expenses for her mom. Ilse's mom is Kershaw Companies employee Marissa Manzanarez.
Carli Short was selected to receive the Brian Kershaw Memorial Scholarship this year. She is the daughter of Jay and Keishia Short. Carli is a graduate of West Valley High School and is committed to attending George Fox University this fall. She plans to pursue a marketing degree at George Fox while she competes on their Track and Field team. She would like to use her degree in the industry after observing how important tree fruit has been to her family. Carli graduated with a 3.71 grade point average. An accomplished student-athlete, she competed in soccer team and track & field. This year she was the captain of the track team. Carli is described by one of her teachers as "hard-working, tenacious, kind and gracious." By another, it's noted that she has a strong sense of sportsmanship and is respected by her peers. Carli stated at the luncheon; "I am incredibly honored to receive this award. I'm looking forward to earning my marketing degree and seeing where the future takes me".
Superfresh Growers congratulates Joselin, Adilene, Ilse, Imelda, and Carli as they continue their journeys through higher education.
Superfresh Growers is a leading grower and shipper of both conventional and organic apples, pears, blueberries, cherries and apricots from the Pacific Northwest. WAEF was founded in 1994 by members of Washington's tree fruit industry with a desire to advance the industry's charitable work. Today, WAEF supports college-bound young people, provides scholarship training in regional high schools, funds the work of community and school organizations providing scholastic assistance to farmworker families and connects the values of tree fruit industry members with good works in the community